Lectro Takes Plastic Surface Treating to the Next Level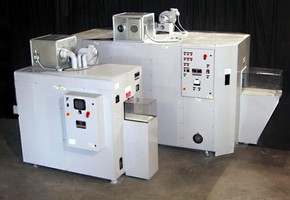 Lectro Engineering, the worldwide leader in three-dimensional plastic surface treating equipment has again raised the bar in the plastics industry. The LT 2012 Plastic Surface Treater increases the capacity of treated parts by 50% over the highly successful LT 2000 series. In doing so it has also reduced the footprint of a Bulk/Inline Lectro-Treat by 65%. This product opens up numerous applications in a variety of industries and insures that all parts will be treated three dimensionally. Customer will see huge reductions in operating costs with the elimination of adhesion promoters and the ability to use inexpensive water base paints, inks and adhesives. This product will eliminate flame treaters from production lines which will lower insurance premiums and create a much safer work environment. Scrap rates due to deformation or over treating will be eliminated increasing profit margins.

For more information contact Greg Wood, VP of Sales, by phone at 314-567-3100 or by fax at 314-567-3466. Our web site address is www.lectrotreat.com. You may also email us at greg.wood@lectrotreat.com Lectro Engineering Co. headquarters is located at 1643 Lotsie, St. Louis, MO 63132 USA We have information on our entire line available in print, video or CD-ROM.

More from Electrical Equipment & Systems