Leading Die Manufacturer Adds Vacuum Furnace to Increase Capacity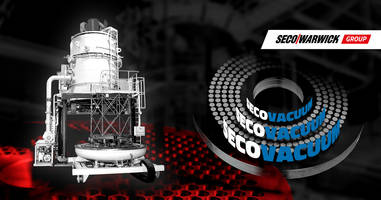 An international manufacturer of diversified mill products for a wide range of industries ordered a Vector®- vertical vacuum furnace from SECO/VACUUM, to upgrade their productivity.
A US-based international manufacturer placed an order for a Vector® high-pressure gas quench furnace from SECO/VACUUM, a SECO/WARWICK Group company. With this new addition partner will increase its heat treatment capability while improving part quality. The new furnace will allow heating treat larger parts, at higher quantities per cycle than their existing furnace, all with improved quality control and reliability
The partner's equipment requires the use of large dies that require precise heat treatment. Their current heat treatment setup includes a pair of vacuum furnaces which have some limits compared to the Vector® they are about to receive.
New furnace features improve turnaround
The new furnace, a bottom loading Vector® vacuum furnace with 6 bar nitrogen gas quench, is 60" diameter, 72" tall, with a 3-ton capacity working zone. This is room enough to treat 3 of their largest dies at once compared to only 2 per cycle for the old furnace. The furnace is also equipped with convection heating which allows them to run their tempering cycle in the same furnace without having to move parts after hardening, a tremendous time and labor savings.
Three temperature control zones and heating elements in the ceiling and in the bottom ensure temperature uniformity of +/- 10°F A 6-bar nitrogen quench system with cooling nozzles located 360° around the load combined with a rotary hearth drive all serve to ensure fast, uniform cooling, minimizing out-of-roundness distortions. The furnace is also equipped with SECO/WARWICK's FineCarbÔ low-pressure carburizing system for future process developments.
All these features and more will allow them to increase production capacity to meet the rising market demand of today and tomorrow.
Positioning for growth
The OEM is seeing a lot more orders for their largest size dies than they used to. The new furnace's vertical configuration and rotary hearth were built specifically to accommodate more of these large dies, allowing them to meet the elevated demand with ease. The new Vector not only has the volume to handle more large dies at once, but also has features that make loading and unloading easier. SECO/VACUUM's intuitive process controls ensure greater heating uniformity than their existing equipment in both convection mode and in vacuum mode.
"We are looking forward to delivering our state-of-the-art furnace, specially configured for their needs, to augment the existing general-purpose furnaces they've utilized for so long. With a wide range of quenching features, they'll have room to grow too, even enabling them to conduct low-pressure carburizing processes if they ever need to" - said Peter Zawistowski, Managing Director of SECO/VACUUM.
Vector®: A versatile heat treatment tool
Vector®, SECO/WARWICK's versatile high-pressure gas quench vacuum furnace, is employed extensively in in-house manufacturing plants across the globe, especially those conducting a wide range of heat treat processes. Whether it's used for hardening tooling or finished parts, low-pressure carburizing (LPC), solution heat treating, annealing or other processes, Vector is the modern choice for the agile plant.
Related