LCR-Reader-MPA Digital Multimeter to Make Debut at Nepcon 2019 in Seoul, Korea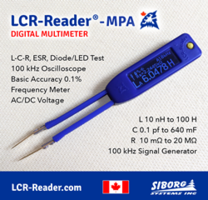 Siborg Systems Inc. is showing the most recent model of multipurpose digital multimeter at Electronics Manufacturing (Nepcon) Korea May 15 to 17, 2019
WATERLOO, ONTARIO (PRWEB) APRIL 22, 2019 - Since the early 2000's Canadian Siborg Systems Inc. has been manufacturing multimeters. The first model, which combined a set of tweezers with a powerful multimeter in a compact design, was introduced on international markets in 2005. From then on, Siborg has refined their devices and released multiple models, including the budget-friendly line LCR-Reader in 2014 and the robust LCR-Reader-MP in 2017.
The newest model, the LCR-Reader-MPA is the most advance device with a record high basic accuracy of 0.1%, unmatched amount of test functions and widest available test ranges.
"This is our first presentation of the newly completed LCR-Reader-MPA," says Michael Obrecht, the director of Siborg, "We have shown devices in the past to welcoming audiences. Our multimeters are well received by consumers for their ease-of-use and high accuracy. We are excited to see what people have to say about the MPA at Nepcon Korea."
Electronics Manufacturing Korea (EMK) has become an globally renowned exhibition for domestic and foreign buyers and is Korea's largest electronics manufacturing exhibition. Since 2017, EMK has been co-hosted with 'Autotronics Manufacturing Korea (AMK). an provides various seminars and events for visitors and exhibitors. Siborg is certain that LCR-Reader-MPA will be well received at this showing among the many other industry leaders.
Based on the tried-and-true combination of tweezers and multimeter, the LCR-Reader-MPA features gold-plated tweezer probes that are able to hold components, either mounted or loose, to a 0201 size. When the device is holding a component, it will automatically determine the type (L, C, R) and best test parameters before measuring with 0.1% basic accuracy. Designed for any task at hand, including on the field, LCR-Reader-MPA's design is compact and lightweight enough to fit into any bag or pocket. The LCD is easily readable with large graphics and is back-lit for easy reading in even the worst lighting conditions. A 4-way joystick-like navigation allows users to easily access features, including the ability to change basic test modes and frequencies right from the default screen.
To features and functions really set the MPA apart from any other tweezer-based multimeter. In addition to automatic and manual LCR and ESR measurements, the device features LED/diode tests, short/continuity test, frequency measurements, oscilloscope mode, signal generator, AC/DC voltage measurements and more. A main feature on the device is the ability to test at 100 kHz test frequency allowing for a 0.001 pF resolution for capacitance and 0.1 for nH for inductance measurements.
Features on LCR-Reader-MPA include: 
Fully automatic and manual LCR, ESR, LED/Diode measurements
0.1% basic accuracy
AC/DC voltage/current measurements up to 15 V
Test frequency from 100 Hz to 100 kHz
Oscilloscope mode up to 100 kHz
Test signal of 0.1, 0.5 and 1.0 Vrms
3.2 Volt LED test voltage
Open/short calibration for offset removal
Automatic test signal reduction to 0.1 V for in-circuit measurements
Sine wave generator up to 100 kHz
29 grams weight, backlit LCD display, gold-plated test leads
NIST traceable calibration certificate
Siborg offers a selection of test equipment and accessories including the aforementioned LCR-Reader; Smart Tweezers LCR-meter, including a model with Bluetooth communication; Smart LED Test Tweezers; Kelvin Probe Connector kit with shielded two-wire connection that turns any LCR-Reader or Smart Tweezers model into a low frequency probe station. Siborg's online store also sells accessories and spare parts.
Contact Information
Michael Obrecht
Siborg Systems Inc.
http://www.lcr-reader.com
1-519-888-9906
More from Software