Laser Cleaning System has Software Upgrade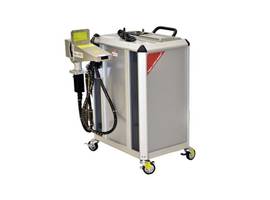 Orlando, Florida, 01/21/2020 - LPC-200-CTH the CleanTech LPC-200-CTH from Laser Photonics is a portable, hand-operated laser cleaning unit. Its 200-watt, multi-pattern laser can vaporize paint, rust, coatings or contaminants. Plastics industry applications include removing release agents from injection molds.
What's new? Improved capabilities. The cleaning unit now has recipes for different applications. The company has upgraded the software to incorporate smart control, allowing the user to select different pulse shapes and oscillating modes to match the task at hand.
Benefits efficient cleaning. In contrast to a straight-line laser pattern, the user of a multi-pattern laser can clean molds without leaving overlap patterns. It is also more eco-friendly than processes like wet chemical etching.
About Laser Photonics Corporation:
For over 35 years, Laser Photonics has been an innovative technology leader in the engineering and manufacturing of world-class Fiber and CO2 Laser material processing equipment for Fortune 1000 companies in various industries. Solutions range from laser cleaning, laser cutting, 3d metal printing, laser engraving, and laser marking offered in standard and custom laser machinery that can be stationary, portable, or incorporated into assembly lines and structures. All machines are built in-house and use the highest quality components available in the market which can make systems last for up to decades and over 100,000 working hours MTBF.
Press Contact:
Tatiana Nikitina
Marketing Director
407-804-1000 x 1008
marketing@laserphotonics.com
More from Mechanical Power Transmission