Laird Technologies to Demonstrate New High-Performance PowerCycler at Pittcon 2013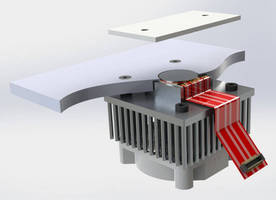 St. Louis, Missouri, USA- Laird Technologies, Inc., a global leader in the design and supply of customized performance-critical components and systems for advanced electronics and wireless products, today announced it will demonstrate a new reference design for a compact PCR thermal cycler for field-level DNA amplification at Pittcon 2013. The event will be held at the Pennsylvania Convention Center in Philadelphia, Pennsylvania, March 17-21, 2013. Laird Technologies will exhibit at booth #3553.

The Laird PowerCycler is designed to provide small, single-well systems with rapid, programmable control to expedite the amplification process and enable point-of-service systems. The compact thermal cycler design is capable of producing up to a 25°C per second temperature ramp in a 50 µL sample, which is five times faster than standard cyclers. The compact thermal cycler reference design features the new MA8000 series of thin-film thermoelectric arrays that offer high heat flux capacity, robust mechanical design and source-matched heat flux density for ease of integration into thermal cycling platforms.

Laird's Thermal Management Solutions group will also showcase the Power Cool Series of thermoelectric assemblies and the PR-59 temperature controller for precise temperature stabilization of medical diagnostics, analytical instrumentation and photonics laser systems.

The PowerCool Series are highly-efficient, high-performance thermoelectric assemblies with a wide product breadth and diverse heat transfer mechanisms. The PR-59 temperature controller is designed to control thermoelectric assemblies with precise temperature stability and features a Graphical User Interface (GUI).

"Medical and analytical instruments require compact thermal management solutions with high-performance and high-reliability," said Andrew Dereka, Product Manager. "Pittcon presents an excellent opportunity for Laird to demonstrate its industry-leading thermal management products and capabilities to the laboratory and medical sciences markets."

Pittcon is the leading showcase for scientific innovations in laboratory equipment, technology and supplies. With more than 900 exhibitors and 17,000 attendees, this year's Pittcon proves to be the largest event yet. The program includes networking and technical sessions along with educational programs for attendees within the laboratory sciences industry across the world.

Through innovation, reliable fulfillment and speed, Laird is a trusted partner and supplier for many of the world's leading technology companies. The Performance Materials division focuses on providing vital protection to a wide range of devices across the electronics industry. As an industry leader in high-performance and cost-effective Thermal Management Solutions, Laird Technologies provides the knowledge, innovation, and resources to ensure exceptional thermal performance and customer satisfaction for applications in the medical, analytical, telecom, industrial, and consumer markets.

Contact Information 
For additional information, visit http://www.lairdtech.com or contact us at:
Americas: +1-888-246-9050 option 2
Europe: +46-31-704-67-57
Asia: +86-755-2714-1166 x374
e-mail: CLV-customerservice@lairdtech.com


About Laird Technologies, Inc.
Laird Technologies is a global technology company focused on providing components and solutions that protect electronic devices from electromagnetic interference and heat, and that enable connectivity through wireless applications and antenna systems.

Custom products are supplied to all sectors of the electronics industry including the handset, telecommunications, data transfer and information technology, automotive, aerospace, defense, consumer, medical, mining, railroad and industrial markets.

Laird Technologies, a unit of Laird PLC, employs over 9,000 employees in more than 46 facilities located in 16 countries.
 
More from Electrical Equipment & Systems