Label Solutions Solidifies its Digital Printing Capabilities with a Mark Andy Digital Series Hybrid Press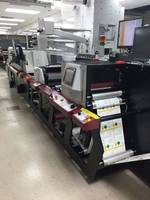 The hybrid system has been in full production for more than 6 months, delivering as promised
St. Louis, Missouri, USA (28 November 2016) Label Solutions Inc., a leading pressure sensitive label supplier located in Marshfield, Missouri, has installed a Mark Andy Digital Series hybrid press to expand and stabilize its digital printing operation. Having 10 years' experience in digital printing, Label Solutions is no stranger to the draws of the technology. The company has had experience with several platforms including inkjet and toner-based systems and has benefitted from the advantages that digital printing offers when comes to short runs and versioned graphics.
The fully configurable Mark Andy Digital Series replaced an existing digital system and joins another digital solution which has been in operation for three years. The hybrid solution includes two flexo print stations, one before and one after the inkjet module, and includes capabilities for in-line lamination, varnishing, and cold foiling.
Together with two traditional flexo presses, Label Solutions supports its market-leading position as a label supplier to the compressed gas cylinder industry. To grow its digital printing operation, Label Solutions needed stability, speed, and dependability. "Can I come in every day, turn it on and know it's going to be up and running at an acceptable level of speed and quality?" says Jeff Jaynes, product engineering. "To be competitive, dependability and speed are where you pick up an edge. That's really what steered us to Mark Andy."
Label Solutions' Digital Series press has been in full production operation since April and it is delivering as promised. "We had a Mark Andy technician on site throughout installation and startup, and the support hasn't stopped there," says Jaynes. "The level of service has been amazing. We know we can count on the Digital Series press. We feel as though we have the machine we had always hoped we would have," he adds.
The Mark Andy Digital Series is a true production-level digital solution, built to reliably run high-quality jobs at industry-leading speeds of 240 fpm (73 mpm). It is available with a printing width of 13.25 inch (336mm), supports repeats for hybrid (flexo) printing from 5.5 to 24 inch (140-610mm), and is supported by Mark Andy's ProWORX digital front end (powered by Esko). The Digital Series is built on Mark Andy's Performance Series platform and is engineered to be highly configurable. It features high-resolution UV inkjet printing (CMYK+White) and offers top-coating, fully integrated in-line flexographic printing modules, and a full range of converting options.
Mark Andy supports its customers as a Total Solutions Partner, providing end-to-end solutions through the entire production workflow. From its robust prepress offering and world-class press technology, to its Mark Andy Print Products' pressroom equipment and consumables, Rotoflex finishing solutions, and unparalleled service and support, Mark Andy can meet any converter need.
Label Solutions is looking to leverage its partnership with Mark Andy. One of its flexo presses is a Mark Andy 2200 and it also has three Rotoflex inspection-rewinders. "We have also been acquiring pressroom materials from Mark Andy Print Products; mounting tapes, doctor blades, and plate materials," says Jaynes. "It's an expanding relationship, one that we expect will provide additional benefits moving forward."
About Mark Andy Inc. Mark Andy Inc. is the Total Solutions Partner to the label and packaging industry with a mission to be 'the supplier of choice with high quality innovative solutions that drive customer profitability.' The company responds to business needs by offering a broad range of equipment, education, support, and supplies to printers and converters around the world.
Partnering with Mark Andy means access to award-winning technologies including Mark Andy flexographic and digital printing presses, Rotoflex offline finishing systems, and a complete line of consumables and press room supplies from Mark Andy Print Products. The company has the largest customer support team with global coverage, offering spare parts, technical service, retrofits and rebuilds, PM programs, and superior training through Mark Andy University.
Mark Andy is headquartered in St. Louis, Missouri, USA, with sales and distribution offices worldwide. www.markandy.com
More from Machinery & Machining Tools