L-com Supports Gigabit WiFi with 802.11ac Antennas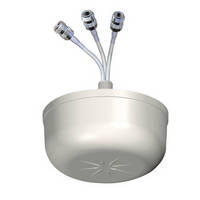 802.11ac Antenna



NORTH ANDOVER, MA — L-com, Inc., a designer and manufacturer of wired and wireless connectivity products, announced today that it will support the latest IEEE wireless standard 802.11ac with a series of indoor ceiling mount and outdoor panel style WiFi antennas that feature 2.4-5.8 GHz operation.



802.11ac offers up to 1 Gbps wireless transmissions and the ability to support up to eight MIMO spatial streams as well as 80 MHz channel bandwidth.



The HG2458-4SDC-6 series ceiling mount 802.11ac MIMO antennas feature 4 dBi of gain and six independent spatially diverse antennas in a single package. Three are designed to operate at 2.4 GHz and three are designed to operate at 4.9 to 5.8 GHz. The HG2458-3SDC-3 series ceiling mount antennas feature spatial diversity between three independent/integral antenna ports providing better wireless reception in areas susceptible to the affects of multi-path interference.



802.11ac Antenna

The HG2458-14DP-3NF outdoor rated panel antenna features three Independent 14 dBi antennas with two vertical and one horizontally polarized element. Other features include a heavy-duty UV-resistant plastic radome ideal for all-weather indoor or outdoor operation and a tilt and swivel mast mount kit which allows for quick installation at various degrees of up/down tilt.



"We strive to offer our customers support for the latest technologies. Our new 802.11ac antennas provide high speed wireless connectivity as well as high quality construction which are a hallmark of L-com's products," said Ken Burgner, Wireless Product Manager.



L-com's 802.11ac compliant antennas are listed below and can be ordered directly from the L-com.com web site or by calling L-com sales at 1-800-341-5266.



2.4 GHz / 5.8 GHz 3 dBi MIMO Ceiling Antennas

2.4 GHz / 5.8 GHz 4 dBi MIMO Ceiling Mount Antennas

2.4 GHz / 5.8 GHz Triple Element, Dual Polarized Panel Antenna



For more information about this release, please contact:

Peter McNeil

Product Marketing Manager

978-682-6936 x1450

pmcneil@l-com.com



L-com®, a global designer and manufacturer of wired and wireless connectivity products, offers a wide range of solutions and unmatched customer service for the audio/video, OEM, military/aerospace, IT, and wireless RF industries. The company's product portfolio includes cable assemblies, connectors, adapters, computer networking components, and custom products, as well as the HyperLink® line of wireless antennas, amplifiers, filters/splitters, lightning protectors, weatherproof enclosures, and much more. Trusted for more than 30 years, L-com, Inc. is headquartered in North Andover, Massachusetts, USA, and is ISO 9001: 2008-certified. For more information, please visit:  http://www.L-com.com/.



Our mailing address is:

L-com, Inc.  45 Beechwood Dr., North Andover, MA 01845 USA

L-com, Inc. All Rights Reserved. L-com, the L-com logo, and HyperLink are registered trademarks of L-com, Inc. in the United States.

More from Agricultural & Farming Products