Kurt Now Offers 15 Different 5-Axis Workholding Options for Medical, Oilfield, Aerospace, Mold/Die Work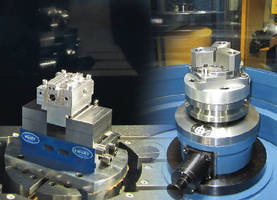 Minneapolis, Minnesota: 5-axis machining varies from very small to extremely large and requires the right workholding to obtain optimal machining results and no single workholding option solves all needs, reports Kurt Manufacturing. Part complexity and size requirements coupled with machine capabilities and limitations dictate what workholding works best.



To meet these challenges, Kurt has expanded its 5-axis workholding to include 15 different options to provide the solution that offers the most cost effective platform, highest clamping force, highest productivity, and reduced downtime. These fifteen Kurt 5 axis options are capable of holding parts sizes from 0.15" up to the size of the CNC machine table. Also included in the lineup are low profile and high profile designs, risers to lift parts higher off the table to achieve additional clearance and options to bolt directly to the machine table.



Kurt Five-Axis Vise Configurations and Options

The Kurt MaxLock Self-Centering Multi-axis Vises are designed for precision machining small to medium parts and available in reversible 2.5" and 4" jaw widths options. Featuring an adjustable centerline so multiple vises can easily be aligned without moving the vise itself or creating complicated programming moves. Clamping can be achieved for both O.D. and I.D. and can hold parts up to 6.5" long. Tall jaws are included for increased spindle clearance and come available in machinable aluminum and machinable steel jaw options.



The Kurt MaxLock Muti-axis Anglock Vise features Kurt's patented and time-proven Anglock® feature to reduce part lift to a minimum by pulling parts down and holding them with maximum rigidity. Modular design mounts on two inch grid patterns and locator pins for quick setup. Also has riser option for gaining more height off the table. Plus the vise uses a standard 5/8"-11 screw and can be replaced by user to whatever length desired.



The Schenke 5 Axis Vises design is available in a low profile and high profile to best fit the size of part and spindle clearance needed. Provides a clamping force up to 8992 lb (40kN) with its tension spindle directly under the workpiece so jaws do not flare out under tension and the machine table does not distort. Clamping height up to 225 mm (8.858 in). These vises handle all shapes including round irregular, and machined workpieces.



Kurt's Leader Chuck MMY Self-centering Chucks extend the option range for 5-axis applications in two and three jaw chuck models each in four different sizes. These Kurt MMY Chucks are capable of external and internal clamping and will satisfy both first and second operations in the same machining cycle providing continuous output of finished components. Repeatability for all two and three jaw chucks is 0.0002 inches.



While all of these fifteen 5-axis options have the capability for machining complex part features, the individual machine and application will dictate what workholding will work best," reports Steve Kane, Kurt's global sales and marketing manager. "Kurt's workholding experts can provide answers and a solution that will deliver the best workholding results."



Call for more information, in USA and Canada, 1-877-226-7823.

Outside USA and Canada, call 1-763-574-8309

Visit the Kurt web store: http://www.kurtworkholding.com

Email: workholding@kurt.com



Kurt Manufacturing Company, Industrial Products Division, 9445 East River Road NW, Minneapolis, Minnesota 55433.

In USA, Fax 1-877-226-7828.

Outside USA, Fax 1-763-574-8313.

More from Electronic Components & Devices