Kooltronic Launches Access Series Ultra-Slim Enclosure Air Conditioners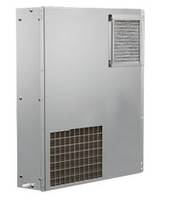 December 1, 2021 – Kooltronic, Inc. of Pennington, NJ has launched the Access Series - a new line of Ultra-Slim Enclosure Air Conditioners for door-mount installation and limited space enclosures.
The new Access Series Enclosure Air Conditioners from Kooltronic are specially designed for closed-loop cooling of heat-sensitive equipment in electrical control cabinets with space constraints that would preclude traditional refrigerant-based cooling units. The Access Series AC units feature a remarkably slim 5-inch profile depth and versatile installation options, including: front-rail, back-rail, and rivet nut mounting. Available in 115V or 230V, the Access Series DSP23 model offers a cooling capacity of 2,000 BTU/H, and a NEMA 12, 3R rating for NEC compatibility with most electrical enclosures.
All Access Series DSP models are UL/CUL Listed. Kooltronic enclosure air conditioners can be configured for applicable enclosure IP designations and voltage needs. Custom-tailored cooling and ventilation solutions are also available.
Kooltronic is a leading manufacturer of enclosure air conditioners, fans and blowers, heat exchangers, and custom-designed cooling solutions. Since 1956, Kooltronic has specialized in the innovative design and production of forced ventilation and closed-loop cooling for various types of sealed enclosures containing heat-sensitive equipment. The company operates a state-of-the-art 170,000 square ft. manufacturing facility and office complex in Pennington, NJ.
Contacts:
Steve Coulton, Sales Manager
Kooltronic, Inc.
+1-609-466-3400
scoulton@kooltronic.com
Michael Magliocco, Digital Marketing Manager
Kooltronic, Inc.
+1-609-466-3400
mmagliocco@kooltronic.com
Contact This Company Download Spec Sheet
Related