Kontron Delivers the Next Generation of IoT-ready Modular Products with Robust Design and Sophisticated Technology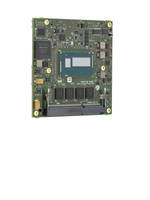 Augsburg – Kontron, leading provider of embedded computing technologies (ECT), presents the new COM Express® Computer-on-Module Kontron COMe-cBL6 and the mini Motherboard mITX-BDU-U. Both the COM Express® and mITX are IoT ready and equipped with 5th generation Intel® Core™ SoC processors as well as Intel® Celeron® processors.



The new COM Express® module and the mITX are both suitable for various environments that require multi-touch display systems or maximizing limited power consumption. Design examples with such requirements include:

- Human Machine Interfaces used in automation or medical image processing

- Industrial tablet PC's for logistics, retail or production markets.

- Surveillance and Security systems

- Digital signage

- Point-of-sale



PICMG COMe-cBL6 in detail:  The COM Express® Computer-on-Module Kontron COMe-cBL6 with pin-out type 6 is highly scalable and covers a wide area of requirements utilizing Intel® Core™ i7 processors to Intel® Celeron® processors. Intel's latest 14nm process technology, the 5th generation Intel® Core™ processors have faster CPU performance, higher graphics performance, and low energy consumption. Up to 8 GB of energy-efficient DDR3LRAMs satisfy even the highest memory demands. Optional soldered memory can withstand the most rugged and robust applications.  State-of-the-art multi-display designs can be connected via three independent display ports. Two have been implemented as DP++ (DisplayPort, HDMI, DVI) and one as a Dual-Channel LVDS. 4x SATA ports with 6 Gbit's, 10/100/1000 Gigabit Ethernet (GbE), 2x USB 3.0 and 6x USB 2.0 are provided as standard interfaces. Application-specific extensions on the carrier board can be attached quickly via a fast 1x PCIe x 4 port. In addition, support of multi-voltage power units (8.5 to 20 V) and the smart battery system MARS simplifies mobile and battery-operated designs. The COM Express Computer-on-Module Kontron COMe-cBL6 supports Microsoft Windows 8.1u and 7, WEI8.1, WES7 as well as Linux and VxWorks.



mITX in detail: Kontron's Motherboard mITX is an embedded, low powered Motherboard with Intel 5th generation 14nm Core processors i7, i5, and i3, This ultra-thin profiled Motherboard provides a low powered platform with 15W CPUs in 23mm envelope. It can be powered by a 12 volt Notebook style power adapter or an internal 12 volt connector. The mITX supports 3 independent display pipes via 2 x Display port and LVDS. With 4 USB 3.0 and 3 USB 2.0 ports, multiple device connections are supported. Two GE LAN ports and 3 SATA III ports supporting RAID levels 0 1 are provided as standard interfaces. There are also 2 DDR3L SO-DIMM sockets supporting 16G DDR3 memory.



Kontron's mITX supports Windows 7, Windows 8.1 and Linux operating systems. As with all of Kontron's Motherboards, the mITX-BDU-U has up to 7 years availability.



Serial production of both the COMe-cBL6 and the mITX-BDU-U with full software support is planned for Q2/2015.



The data sheet, order form and further information on the PICMG-compliant Computer-on-Modules can be found on the Kontron COM Express Website.



Further information on the mITX Motherboard can be found on the Kontron mITX website: http://www.kontron.com/products/boards-and-mezzanines/embedded-motherboards/mini-itx-motherboards/



About Kontron

Kontron is a global leader in embedded computing technology. With its employees in research and development, Kontron creates many of the standards that drive the world's embedded computing platforms. Kontron's product longevity, local engineering and support, and value-added services, help create a sustainable and viable embedded solution for OEMs and system integrators. Kontron works closely with its customers on their embedded application-ready platforms and custom solutions, enabling them to focus on their core competencies. The result is an accelerated time-to-market, reduced total-cost-of-ownership and an improved overall application with leading edge, highly reliable embedded technology.



Kontron is listed on the German TecDAX stock exchange under the symbol "KBC". For more information, please visit: http://www.kontron.com/



Intel, Intel Core and Intel Celeron are registered trademarks of Intel Corporation in the United States and/or other countries.



Media Contacts



Europe, Middle East and Africa

Daniel Piper

Kontron

Tel: +49 (0) 40-20 00 90-0

daniel.piper@kontron.com



North America

Justine Johnson

Kontron

Tel: +1 858-677-0877

justine.johnson@kontron.com



Asia Pacific

Richard Pugnier

Kontron

Tel: +1 858-677-0877

richard.pugnier@kontron.com



All rights reserved. Kontron is a trademark or registered trademark of Kontron AG. Intel®, Intel® Core ™ and Intel® Celeron® are trademarks or registered trademarks of Intel® Corporation in the US and other countries. PICMG® and COM Express® are trademarks or registered trademarks of the PCI Industrial Computers Manufacturers Group. All other brand or product names are trademarks or registered trademarks or copyrights by their respective owners and are recognized. All data is for information purposes only and not guaranteed for legal purposes. Subject to change without notice. Information in this press release has been carefully checked and is believed to be accurate; however, no responsibility is assumed for inaccuracies.



More from Agricultural & Farming Products