Konica Minolta Ventures into Chandigarh Market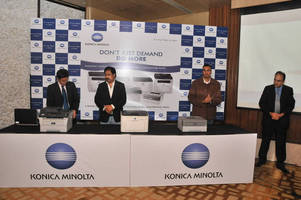 Chandigarh – Konica Minolta Business Solutions India Pvt. Ltd., a world class name in the printing industry recently forayed into the Chandigarh market. Collaborating with Webnet Asia-a unit of Jetage Computer Traders, Konica Minolta announced its new partner for the range of A4 printers on 20th December 2013.



Speaking on this occasion, Mr. Sanjeev Walia from Webnet Asia said, "Konica Minolta was our first and the only choice and we are glad to be associated with them. They have a number of competitive products and its worth being a partner for their range of best-selling A4 Printers. This step of ours will definitely add value to our business and take it to new heights."



Mr. Tadahiko Sumitani, Managing Director, Konica Minolta Business Solutions India Pvt. Ltd.,commented, "We treasure all our partners and the fact that they trust us by carrying our brand to the market, gives us immense pleasure. All our products are based on cutting edge technology and Webnet Asia's association with Konica Minolta is sure to go a long way. We will provide them with the best possible printing solutions in India."



The USP of Konica Minolta's newly launched range is the remarkably high image quality and consistent results through the entire print run. These models featuring compact size and high reliability easily integrate into any small office or home setting.



About Konica Minolta Business Solutions India Pvt. Ltd.:

Konica Minolta Business Solutions is a leader in advanced imaging and networking technologies from the desktop to the print shop. Konica Minolta is the global developer, manufacturer of multi-functional peripherals (MFPs), printers, equipment for production print systems and graphic arts, equipment for healthcare systems, measuring instruments for industrial and healthcare applications, inkjet print heads and textile printers for industrial use, and related consumables and solution services. It is also engaged in the development, manufacturing and sale of electronic materials (including TAC films), lighting source panels, functional films (including heat insulation films), and optical products (including lens units). To know more please visit http://www.konicaminolta.in.



Product Information:



Pagepro1500W is a Monochrome Laser printer with printing speed of 21 papers per minute, memory of 8 MB and supports A4, Legal, Letter, B5, A5, A6 & Executive Media Sizes. It is a simple solution for a consumer's daily printing needs.



Pagepro 1590MFisa Monochrome Laser Printer with printing speed of 24 papers per minute, supporting 32 MB memory and can be used for A4, Letter, B5, A5, A6, Executive, Legal, Folio & Monarch format printing. It also comes with a CCD Image sensor, flat bed scanner. In short, it's a multifunction printer with All-in-one Convenience.



Bizhub 3300Pis another Monochrome Laser Printer where high productivity meets intuitive ease of use. It has a printing speed as high as 35 papers per minute and memory capacity of 128 MB. Besides supporting A6 to A4 media sizes, it also supports custom paper sizes which give ease of use to the consumer.



Magicolor 1600W is a Color Laser Printer with 16 MB memory and printing speed of 20ppm for monochrome printing and 5 ppm for colour printing. It supports media size of A4, A5, and Legal, Letter, Envelope, DL, B5 & custom size of 92 – 216 X 184 – 356 mm.



Magicolor 1650EN is a variant of Magicolor 1600Wbut with memory capacity of 256 MB & built in Network that makes it ideal to produce all the diverse documentsthat small teams and offices typically deal with every day.This printer impresses with its versatile media qualities and processes plain paper, thick paper up to 209 gsm, envelopes, labels, postcard stock etc.



Magicolor 1680MFis aColor Laser Printer with printing speed of 20ppm for monochrome printing and 5 ppm for colour printing. It has a memory capacity of 64 MB and supports A4, A5, B5, Letter, Legal, envelope C6, Envelope DL & Custom paper sizes of 92 – 216 mm X 184 – 356mm. It also comes with a CCD Image Sensor, flat bed scanner.  Thus, Magicolor 1680MF is one compact system for a home's every need.



Magicolor1690MF is a variant of 1680MF with 128 MB memory capacity and an added fax machine. This fax machine has a speed of 3sec per page. It also comes at a very affordable price hence, making it the best printing solution for small enterprises.



Pricing and Availability:



These A4 range printers by Konica Minolta are available in the market and are priced between Rs. 6380/- to Rs. 41730/-.

More from Controls & Controllers