KOGANEI to Increase Production of Ventilator Flow Control Valves to Meet COVID-19 Crisis Needs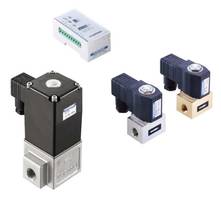 Fremont, CA – April 7, 2020 – With the recent announcement that Medtronic has made the design of its Puritan Bennett 560 (PB 560) ventilator available to all manufacturers, the need for ventilator components is rising dramatically. In response, KOGANEI International America, Inc., is preparing to ramp up production of its products used in ventilators to help medical equipment manufacturers. 
KOGANEI's KFPV Proportional Flow Control Valve is a critical component in medical ventilators. The KFPV provides stepless adjustment of flow rates for seamless, high-precision control of air and liquids with superior reliability. To mitigate the wide fluctuations of the reference input signal, the ramp response time can be easily adjusted. Two potentiometers set valve opening points and fully-open flow rate values to match usage conditions. Other highlights include:
Two models available: KVPV050 and KFPV300
Stepless variable control of gases and liquids
High-precision hysteresis
Initial default setting (without external input)
Reference input signal 4 to 20 mA, 0 to 10 V
Built-in temperature compensation circuit
LED monitor
To download the KFPV data sheet, click here.
Media Contacts
Company Contact:
William Miller III, National Marketing Manager
Email: wmiller@koganeiusa.com
Tel: 269-861-7040
Agency Contact:
Julie Eleftheriou, Editorial Director
Email: julie@longrenparks.com
Tel: 952.913.3065
About KOGANEI International America, Inc.
Through their nationwide distributor channel, KOGANEI International America, Inc., provides a wide range of solutions for the pneumatic, hydraulic, electrostatic, and fluid control industries. KOGANEI's products include: high-performance solenoid valves, air cylinders and grippers, electric actuators, tabletop robotics, clean systems and other related products – everything from cleanroom-grade filtration to valves.
KOGANEI International America is a subsidiary of the KOGANEI Corporation. Founded in 1934 and headquartered in Tokyo, Japan, KOGANEI Corporation is a pioneer in the pneumatic industry, specializing in miniaturization. It is among the top five suppliers in the world.
For more information, please visit www.koganeiusa.com or call 510-744-1626,
More from Sensors, Monitors & Transducers