KMT Model H6A-NC Double Column Bandsaw Offers Full NC capability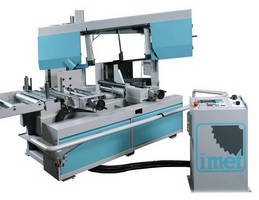 Kalamazoo Machine Tool Model H6A-NC Bandsaw is a fully automatic, NC controlled double column mitering machine. The saw frame is canted 6 degrees, with mitering from 0-60 degrees. All functions are fully hydraulic, and the sawfeed controls utilize precision control valves. A freestanding control console allows placement in the most advantageous operator location.

The model H6A-NC saw is a fully programmable machine that can automatically program the length, size of material, blade speed and quantity, and stores the individual jobs for later recall. The saw features two vises on the infeed side to ensure the material is clamped and never released during all feeding and sawing operations. Both feeder vise jaws clamp and unclamp, to facilitate crooked material. The barfeeder, which is a true shuttle-vise, travels on linear guides, and is driven by heavy-duty ball screw for maximum accuracy. The saw can operate in single cut semi-automatic mode, or in the fully automatic mode to repetitively cut material to length.

The H6A-NC saw has a 1-1/4 x 17' 5" blade operating at 60 -360 FPM. Material work height is 32-1/4", with a vise opening of 23-1/2". Capacities are 20" at 90 Degrees, 17-1/2" at 45 Degrees, and 9-1/2" at 60 Degrees.

More from Electrical Equipment & Systems