Kluber Offers Innovative Lubrication Solution for Wind Power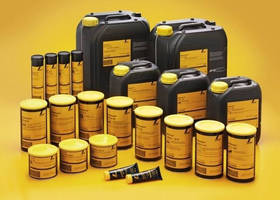 Londonderry, NH - (March 25, 2009) - Kluber Lubrication, a worldwide manufacturer of specialty lubricants, will showcase three innovative, specialty lubricants for the wind power industry at the WINDPOWER 2009 trade show May 4-7 in Chicago, IL. The lubricants are Kluberplex® BEM 41-141, Kluberplex® AG 11-462 and Klubersynth® GEM 4-320 N.

Kluberplex BEM 41-141 is high-performance grease with a special blend of base oil and additives to cover the different lubrication requirements of the individual bearing applications within wind power stations. The beige grease is ideal for pitch and yaw bearings (high stresses, oscillations, vibrations), main bearings (low rpm, high stresses, vibrations), and generator bearings (high rpm and temperatures). Kluberplex BEM 41-141 can be used in all bearing applications which allows consolidation of lubrication inventory.

Another unique product is the priming and operational lubricant, Kluberplex AG 11-462 an effective lubrication for open gears. Kluberplex AG 11-462 is esthetically neutral because it is white in color and provides excellent adhesion as well as superior protection against high loads and corrosion.

In addition to our grease products, our Klubersynth GEM 4-320 N is outstanding, synthetic oil for enclosed gear drives subject to a wide range of service temperatures. Compared to standard oil, Klubersynth GEM 4 N shows excellent wear protection for gears and bearings, ageing and foaming resistance, cleanliness, and greater efficiency.

Kluber's ADDED value program has made it easy for manufacturers and operators to simplify their lubrication program.

For more information about the lubrication requirements of wind power applications, please visit booth 2639 at WINDPOWER 2009 or the web site at http://www.klubersolutions.com/wind.

Kluber Lubrication, a worldwide manufacturer of specialty lubricants, has long been on the cutting edge of lubricant technology. For more than 75 years, we have been committed to providing tribological solutions for our customers, by manufacturing and supplying specialty lubricants for extreme applications. Our lubricants succeed where conventional lubricants fail. Our philosophy of product innovation demands that we work cooperatively with our customers and has earned us the reputation of reliable partner and solution provider. With representation around the globe, and a product portfolio of more than 2,000 standard lubricants, Kluber's products and services are available wherever and whenever they are needed. Lubrication is our World!


More from Material Handling & Storage