Kingspan Designs Solar Thermal System for Syracuse University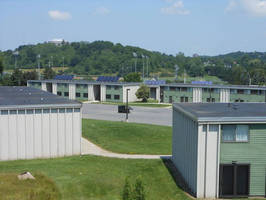 Kingspan Environmental has designed and installed one of its largest solar panel systems to date at a prestigious US university.



Kingspan Environmental, a division of the global building products manufacturer, recently commissioned a 240 solar thermal panel system to heat water in 20 Skytop apartment buildings on Syracuse University's South Campus, New York.



The system is providing energy needed year-round to heat water for 20 buildings containing a total of 160 three-bedroom apartments. Each of the 20 buildings on the Syracuse University site is equipped with two separate electrically heated domestic hot water systems serving 12 students each. The average demand for each of the hot water systems is estimated to be 168 gallons per day.



The project was supported by the New York State Energy Research and Development Authority (NYSERDA) which offers an incentive programme for offsetting electricity when installing solar thermal systems.



The project began with extensive feasibility and design work which was carried out by engineers from Kingspan. This involved the determination of daily, weekly and monthly hot water usage profiles for the site. This information was then combined with historical weather data for the region to determine the energy requirement for heating domestic hot water. Kingspan also worked on an evaluation of the existing site to select the optimum location for the installation of the solar panels. Experts from Kingspan were then able to use computer modelling software to size systems each consisting of six flat plate solar thermal collectors and stainless steel solar storage tanks. In the final arrangement the storage tanks, serviced directly by the solar panels, preheat incoming cold water which is then fed into the existing water heaters. This configuration allows the solar thermal system to contribute up to 60 percent of the energy required for hot water production.



Kingspan also supplied a complete system of components to allow for rapid installation within a tight schedule - the installation had to take place from late May to mid August when the students were off campus. Throughout the process of installation, Kingspan continued to carry out site vists to provide technical support in areas which included commissioning and controller programming.



Solar thermal panels are particularly effective wherever there is a consistent hot water demand, especially in applications such as university cafeterias, residence halls and athletic facilities. While the solar panels on the roofs of Skytop apartments are Syracuse University's first, the hope is that this pioneering project will prove so successful, it will inspire other similar systems across the US.



ABOUT KINGSPAN ENVIRONMENTAL: A division of Kingspan Group, Kingspan Environmental is a solar thermal product industry leader offering cost-effective renewable energy systems with commercial and residential applications. With 1,000 employees across North America and 25+ years of solar technology, design, specification and installation experience, we deliver premium products and design services which are tailored to our clients' needs.



Architects, designers, installers and others interested in learning more about Kingspan Solar hot water systems – and Kingspan Environmental's full line of renewable energy products can visit www.kinspansolar.com.

More from Machinery & Machining Tools