Kennametal Conforma Clad® Tungsten Carbide Cladding Now Available for Cast-Iron Components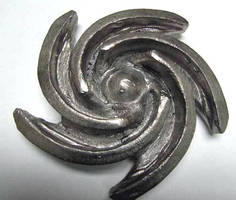 (NEW ALBANY, IN) - Kennametal Conforma Clad® is a leading global provider of wear-protection solutions to high-performance industrial markets. Its tungsten carbide cladding has been shown in field tests to extend the life of high-wear industrial components such as coal-burner nozzles and popcorn screens used in power plants more than eight times compared to conventional thermal spray coatings. Now, due to process technology advancements, Conforma Clad cladding is available for cast-iron components, such as valves and pump housings used in chemical, paper, and other process industries.

"Prior to this, due to our vacuum furnace cycle temperature being around 2100 degrees F, we were unable to perform our cladding to ductile and other iron substrates," says Stephen Wallace, product manager. "Our new cladding matrix allows for a furnace cycle of less than 1900 degrees F. Additionally, we've been able to verify our bonding and the wear properties of the new matrix versus uncoated ductile iron and white iron commonly used in highly abrasive environments."

Abrasion test results improved between eight and 10 times with Conforma Clad cladding compared to uncoated ductile iron, while tensile strength improved up to 10 percent. "Mature industries such as steel, paper, and petrochemical can greatly extend the life of cast iron components, increasing their efficiencies," Wallace says. "Another advantage is to use ductile iron in place of more expensive substrates and continue to gain performance advantages."

For more information, visit conformaclad.com.

Kennametal Conforma Clad Technology
Other types of protection may guard against one form of wear, but Conforma Clad tungsten carbide cladding provides unmatched resistance against abrasion, impact, erosion, and corrosion, and also creates a true metallurgical bond. Brazed tungsten carbide cladding significantly increases equipment life in extreme environments. Conforma Clad works best when exposed to multiple modes of failure, including combinations of corrosion, abrasion and erosion.

Full-service customer solutions include:

o wear assessment

o solution design and engineering

o cladding fabrication and application

o installation support

o ongoing wear monitoring and consultation

Users of components such as cast-iron impellers (above) can expect significant performance improvements with Conforma Clad tungsten carbide cladding.

More from Machinery & Machining Tools