Kalmetall-C Manganese Hard Castings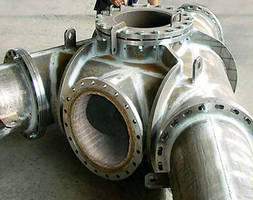 Abresist Kalenborn Corporation offers Kalmetall-C manganese hard castings for a wide range of applications including structural elements subject to wear or as replaceable wear parts. Manganese hard castings are known as impact hardening materials with the core remaining relatively tough. Kalmetall-C, a low carbon cast iron with a high manganese content, offers advantages for hammers, scrapers and more, when subjected to impact load. They are particularly cost effective when produced in large quantities.

For more information contact Abresist Kalenborn Corporation, P.O. Box 38, 5541 North State Road 13, Urbana, IN 46990. Telephone: 800-348-0717, Fax: 888-348-0717. Website: www.abresist.com, E-mail: info@abresist.com.

More from Adhesives & Sealants