K-Tron Process Group to Exhibit Automation Equipment for Batch and Continuous Pharmaceutical Processes at Interphex 2009, Booth 3036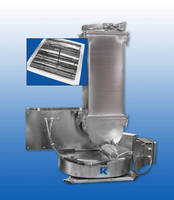 PITMAN, NJ (January 22, 2009)- K-Tron Process Group will exhibit the latest feeding and K-Tron Premier conveying equipment for pharmaceutical processing applications at Interphex 2009, Jacob Javits Convention Center, New York City, booth 3036. Demos on display include the following: a new expanded hopper design for the KT20 Pharmaceutical Feeder, MT12 Micro-Ingredient Feeder, KT20 Pharmaceutical Feeder on D5 scale, and K-Tron Premier Pneumatics P30 receiver. For more information: http://www.ktron.com/interphex

KT20 Pharmaceutical Feeder: New Expanded Hopper Design

The KT20 Pharmaceutical feeder is now available with a new hopper design that includes a larger open area in the material in-feed section of the feeder, allowing for better screw fill resulting in improved feeder accuracy. The larger open area at the base of the hopper is ideal for cohesive materials where build up may occur in more conventional hopper designs. The design is available for both the T20 and T35 pharmaceutical feeder sizes.

ActiFlow(TM) Smart Bulk Solids Activator: A New Material Flow Aid

The ActiFlow Smart Bulk Solids Activator reliably prevents bridging and rat-holing of cohesive bulk materials in stainless steel hoppers. ActiFlow is a non-product contact device, consisting of a patent-pending vibratory drive and intelligent control unit. In applications involving difficult flowing materials, ActiFlow eliminates the need for mechanical agitators with secondary motors and gearboxes, as well as the need for flexible side wall agitation devices or aeration pads. The patent-pending self-tuning algorithm implemented in the K-Tron Control Module (KCM) monitors the system continuously adjusting the frequency and amplitude of the ActiFlow to maintain flow within the hopper. In this manner, bridges and rat-holes are prevented before they can form. Working in concert with K-Tron's patented Smart Force Transducer (SFT) weigh scales, advanced filtering algorithms are used to screen out vibrations, ensuring an accurate weight signal even with the ActiFlow running.

K-Tron MT12 Micro-Ingredient Feeder: For Low Rate Micro-ingredient Feeding

The MT12 Micro-Ingredient Feeder is available in both pharmaceutical and standard models, for accurately feeding free flowing to difficult to handle powders at rates as low as 20 grams / hour and as high as 2000 grams/ hour. Both loss-in-weight (model KCL-SFS-MT12) and volumetric (model KCV-MT12) feeder models are available for continuous or batch operation, with loss-in-weight model on display. The compact feeder is designed for ease of disassembly, allowing fast and easy cleaning, with options available for automatic refill. Typical applications include feeding jet mills, tablet presses, continuous extrusion processes and any application where expensive micro ingredients require accurate feeding.

KT20 Twin Screw Pharmaceutical Feeder: New and Improved Ingredient Feeding

K-Tron Process Group has implemented a number of design enhancements to the Pharmaceutical KT20. Engineering design improvements include:

o Improved screw shaft seal design with O Ring
o Standard seal purge fittings assuring no migration of product to bearing area
o Improved drainage design for CIP
o New scale design featuring pre- wired motor cables and air purge lines that eliminate any negative weight effects
o Intrinsic safe option for European ATEX 2GD and U.S. Class I Div 1 hazardous area applications.

K-Tron Process Group has also engineered specialty designs for glove box integration-with the feeder mounted both inside and outside of glove box walls.

K-Tron Premier P-Series Receivers: A Custom Solution for Difficult Applications

K-Tron Premier P-Series receivers provide a sanitary, custom solution for difficult conveying applications. The sanitary design features include steep cone angles to ensure excellent discharge and band clamps for quick disassembly. The material conveying principle includes pneumatic, vacuum, dilute phase, and dense phase conveying. Conveying rates vary depending on model, product characteristics and conveying distances. Typical materials include tablets, capsules, flakes, free-flowing to poorly flowing powders, and materials requiring gentle conveying. Model on display includes a static P30 unit, in mirror finish.

About K-Tron Process Group:

K-Tron is a global leader in the gravimetric feeder market and a single-source supplier for feeding, pneumatic conveying and systems engineering solutions. K-Tron has defined the leading edge of technology for material handling applications in the process industries. The K-Tron Process Group designs, produces, sells and supports its equipment for all process industries under the brand names K-Tron Feeders and K-Tron Premier. Visit www.ktronprocessgroup.com or email info@ktron.com.

More from Chemicals & Gases