K-Tron Process Group Introduces a New Material Flow Aid for Its Pharmaceutical Loss-in-Weight Feeders at Interphex 2010, April 20-22, Jacob Javits Convention Center, New York, NY, Both 2505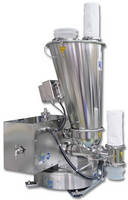 PITMAN, NJ, USA - The K-Tron Process Group is proud to introduce ActiFlow (TM) Smart Bulk Solids Activator, an innovative method to reliably prevent bridging and rat-holing of cohesive bulk materials in stainless steel hoppers without internal hopper agitation. The pharmaceutical ActiFlow design is a non-product contact device, consisting of a patent-pending vibratory drive and intelligent control unit, designed specifically to work with K-Tron's pharmaceutical line of gravimetric loss-in-weight feeders. The unit will be on display at Interphex 2010, April 20-22, Jacob Javits Convention Center, New York, booth 2505.

In applications involving difficult flowing materials, ActiFlow eliminates the need for mechanical agitators with secondary motors and gearboxes, as well as the need for flexible side wall agitation devices or aeration pads. The patent-pending self-tuning algorithm implemented in the K-Tron Control Module (KCM) monitors the system continuously adjusting the frequency and amplitude of the ActiFlow to maintain flow within the hopper. In this manner, bridges and rat-holes are prevented before they can form.

K-Tron offers a wide variety of solids and liquid feeders for pharmaceutical processing applications. Pharmaceutical designs are all engineered to meet the rigid requirements of the industry; including cGMP standards as well as the use of FDA approved and certified materials of construction. The stainless steel K-Tron Pharmaceutical feeder is available in volumetric and gravimetric, single and twin-screw models.

The Pharmaceutical design ActiFlow is mounted outside the product contact area, thus reducing additional cleaning which might result with internal agitators or flex wall type devices. The ActiFlow works in concert with K-Tron's patented Smart Force Transducer (SFT) weigh scales. K-Tron's advanced filtering algorithms are used to screen out vibrations, ensuring an accurate weight signal even with the ActiFlow running. The ActiFlow is used in loss-in-weight (gravimetric) feeding applications. For more information and to preview video, please visit http://www.ktron.com/ActiFlow.

Other equipment on display include:

K-Tron Premier P10 running with a K-PH-SFS24-T20 twin screw feeder:

This demo shows the sanitary design of the K-Tron Premier P10 vacuum receiver automatically refilling the pharma design twin screw T20 feeder for continuous operations. The K-Tron Premier P10 is designed to convey powders and meets the rigid sanitary requirements of the pharmaceutical industry. With the choice of various discharge valve types (powered flap and active driven butterfly valves) the P10 can be used for conveying only applications such as hopper loading, as well as loss-in-weight feeder refill applications, where the receiver is not always emptied completely.

Conveying Rates:

P10 flap valve versions up to 600 kg/h (1320 lb/h)

P10 butterfly valve version up to 400 kg/h ([880 lb/h)

Micro-ingredient Feeder for low rate feeding applications:

K-Tron's MT12 micro-ingredient feeder is designed for applications requiring low rate feeding, as low as 0.04 dm³/hr (0.0014 ft³/hr). K-Tron's MT-12 loss-in-weight microfeeder may be used for feeding micro ingredients in a continuous or batch operation. The MT-12 provides gravimetric feeding of free flowing to difficult powders, such as lumpy, moist, or bridge building materials.

About K-Tron Process Group:
K-Tron is a global leader in the gravimetric feeder market and a single-source supplier for feeding, pneumatic conveying and systems engineering solutions. K-Tron has defined the leading edge of technology for material handling applications in the process industries. The K-Tron Process Group designs, produces, sells and supports its equipment for all process industries under the brand names K-Tron Feeders and Premier Pneumatics. Visit www.ktronprocessgroup.com or email info@ktron.com.

More from Architectural & Civil Engineering Products