K-Tron and Premier Pneumatics to Exhibit at Southeast Powder and Bulk Solids Show, April 24-26, 2007, Atlanta, Georgia, Booth 1513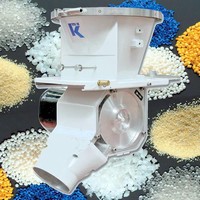 PITMAN, NJ (February 7, 2007) - K-Tron and Premier Pneumatics, Inc. will exhibit for the first time as the K-Tron Process Group at the upcoming Southeast Powder and Bulk Solids Show, Georgia World Congress Center, Atlanta, Georgia, Booth 1513. The addition of Premier Pneumatics to the K-Tron Process Group greatly expands K-Tron's pneumatic conveying capabilities to include continuous as well as vacuum sequencing systems.

The Premier Pneumatics name will serve as the brand name for the entire vacuum conveying product line, which will include the current K-Tron PCS and K-Tron Colormax brands. The K-Tron feeder and controls line will be branded as K-Tron Feeders, all of which will be sold through the K-Tron Process Group. Equipment on display in booth 1513 at the Southeast Powder show include:

New Feeder Operator Interface: K-Vision

The K-Tron Feeders brand of equipment on display includes the new K-Vision, a new feeder operator interface for controlling up to 16 feeders in a single process line. K-Vision uses a 10.4-inch color LCD display together with a touch screen as the primary operator input mechanism. It will offer a quad screen display mode for viewing multiple pages on one feeder or a single page on multiple feeders. The new operator interface also offers support for multiple languages. Designed for simple operation and fast and easy start-up, K-Vision offers graphic visualization of process information, utilizing flexible, easy to use trend graphs. The new feeder interface offers event logging and will support all of the different feeding control types for both continuous and batch operation.

Newest addition to Bulk Solids Pump Feeder(TM) line: BSP-135

On display will be the patented Bulk Solids Pump (BSP) feeder line, which now includes the new BSP-135. With several models already available, the BSP-135 is a slightly larger version of the BSP-100, with all the same features except that it has three feeding ducts instead of one. The K-Tron Bulk Solids Pump feeder line has been specifically designed and engineered to provide gentle, precise feeding of free-flowing pellets, granules, flakes, powders, and friable materials. The BSP feeders do not use screws/augers, belts, or vibratory trays to convey materials. These feeders utilize positive displacement action to move material uniformly, from storage hopper to discharge outlet. Units on display include the BSP-100, BSP-135, BSP-150P and BSP-150S.

Batch Feeding or Continuous Metering Applications: Smart Weigh Belt (SWB-300)

K-Tron's Smart Weigh Belt feeder for continuous controlled gravimetric feeding of bulk materials, can be used for gravimetric batch feeding or for continuous metering of bulk material flow. The feeder offers continuous auto tare by using two Smart Force Transducer III digital weigh modules. This feature improves long-term stability and reduces maintenance / frequency calibration. The SWB is equipped with auto indication that belt cleaning or replacement is required, and can be used in application requiring lower feed-rates.

Material Changeover Flexibility: K-Tron Quick Change Feeder

K-Tron's T35/S60 Quick Change Feeder has been specially designed for applications requiring the maximum possible material handling and changeover flexibility along with the convenience of fast cleaning. The feeder is available in volumetric or loss-in-weight configurations, both as single or twin screw. Single screw units handle free-flowing powders, granules, pellets and other non-flooding materials, while twin screw units control floodable powders and more difficult sticky or hard-to-flow materials. Ideal for applications requiring frequent and easy cleaning, where product contamination is not allowed, and where ingredients must be changed quickly.

Heavy Duty / High Volume Valves: The Aerolock(TM) Rotary Valve:

The Premier Pneumatics Aerolock(TM) Rotary Valve is designed for heavy-duty industrial service and high-volume efficiency. The HD Aerolock performs at up to 15 PSI pressure differential and temperatures up to 225° F. Sizes range from .10 to 1.85 ft3 per revolution. Three types of seals are available in addition to several rotor choices. Several interior coatings are also available.

A Self-Cleaning Receiver: Series3 2420 PVC Compound Receiver:

The Premier Pneumatics 2420 Receiver is designed to handle free-flowing granular powder, regrind, and palletized materials. This receiver features a large filter area with automatic cleaning for fine powders, and wear-resistant carbon steel material (also available in stainless steel) for conveying mildly abrasive materials. Each receiver is available with a check-valve to allow multiple receivers to draw material from a common conveying line. The unit features an easy access band clamp to provide tool-less entry into the interior of the receiver for cleaning and filter maintenance.

Conveying Applications Requiring Air Filtration: Modular Bin Vents

Also on display, the Premier Pneumatics Filtair Series Modular Cartridge Bin Vent, for conveying applications requiring air filtration. As material is pneumatically conveyed into the storage tank fine airborne particles are trapped by the units large cartridge filter enabling clean air to pass from the tank into the atmosphere. Modular design and low height allow the operator to perform maintenance from the tank deck without tools. Timed burst of air from a compressed air accumulator pulse the cartridge filter, dislodging fine particles returning them to the storage tank.

About K-Tron:

K-Tron is a global leader in the gravimetric feeder market and a single-source supplier for feeding, pneumatic conveying and systems engineering solutions. For more than 40 years, K-Tron has defined the leading edge of technology for material handling applications in the process industries. The K-Tron Process Group designs, produces, sells and supports its equipment for all process industries under the brand names K-Tron Feeders and Premier Pneumatics. For more information, email info@ktron.com or visit www.ktron.com and www.premierpneumatics.com.

More from Electrical Equipment & Systems