Jergens Pyramid Risers Provide A New Angle for Multi-part, Five Axis Machining Productivity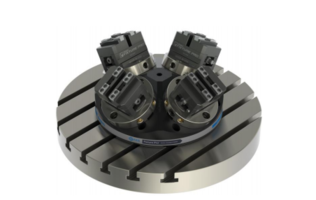 Tuesday, September 1, 2020, Cleveland, OH – Jergens Inc. announces its new three- and four-sided pyramid risers that permit multi part load and provide greater access for five axis machining applications. Part of the Fixture-Pro® line of quick-change modular workholding solutions, Jergens pyramids feature a 30-degree mounting surface to ensure maximum clearance for spindle and cutting tool paths resulting in more machining per setup
The engineered solutions offer three versatile mounting options. Direct-to-table uses t-slots, center pin and timing key, and is secured using t nuts and Socket Head Cap Screws (SHCS). QLS accurately locates and clamps the pyramid to a base element, such as subplates, using a combination of QLS shoulder screws and SHCS. Quick-Loc™ pallet systems use pull studs (spaced at the industry-standard 96mm pattern) to locate and clamp in a single step.
The light-weight aluminum risers are compatible with virtually all five axis CNC machining centers and ensure the fastest change over and setup times possible. Available in both three-position and fourposition configurations, Jergens pyramid risers mate with many top tooling choices including selfcentering vises, dovetail vises and ER collet fixtures.
For more information on Jergens' new pyramid risers, or any of the complete line of workholding solutions, contact Jergens at 15700 S. Waterloo Road, Cleveland, OH 44110-3898. Phone: 877-486-1454; Fax: 216-481-6193; e-mail: info@jergensinc.com; or visit on the web at www.jergensinc.com. Jergens, Inc. is an AS9100 Rev D and ISO 9001:2015 certified company committed to helping its customers achieve leaner, more profitable manufacturing, and continues to add products and engineered solutions for an integrated approach to "Manufacturing Efficiency".
For more information contact:
Mary Delaney
216 706 6143
mary.delaney@jergensinc.com
Jeff Forrest
248 330 2363
jeff@imgroup.biz