Jergens Offers Extensive Line of Metal Knobs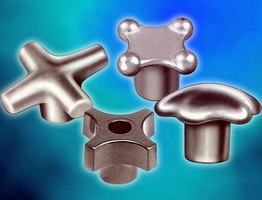 November 28, 2007- Jergens, Inc., known for standard components that exceed industry standards, offers a large inventory of metal knobs for clamping, fastening, operating control, and other applications. Materials include cast iron, steel, and aluminum. Jergens also offers metal knobs with reamed holes, tapped holes, or blanks as part of their large standard inventory, but knobs can be modified per customer requirements in a relatively short time frame. As a partner supplier of off-the-shelf products, Jergens provides faster turnaround/delivery, with no quantity minimums.

Types include:

Speed Handles - Much like wing nuts, but on a significantly larger scale for heavier-duty applications.

Knurled Control Knobs - Also known as thumb screw knobs, they make it easier to adjust for tensioning, fastening, and similar applications.

Four-Prong Knobs - Excellent for clamping, adjustment, and fastening applications.

Palm Grip Knobs - The rounded head design creates a more ergonomic feel for the user.

Speed Bar Knobs - Allow the operator to use a bar to turn the knob that is removable when the knob is stationary, preventing impedance in tight spaces.

Jergens also offers an extensive line of plastic handles, knobs, and handwheels. The entire offering can be found on www.jergensinc.com, or contact Jergens, Inc. for a catalog or additional information.

Founded in 1942, Jergens has grown into four separate operating divisions providing superior engineered solutions and products: "The standard components with the highest standards." The Jergens Difference might be better engineering or better service but the result is always the same-a better solution for our customers. Jergens is an ISO 9001:2000 certified company. For more information, please contact Jergens, Inc. at Jergens Way, 15700 S. Waterloo Road, Cleveland, OH 44110-3898. Phone: 216-486-5540 or toll free: 800-537-4367; Fax: 216-481-6193. On the Web: www.jergensinc.com. E-mail: info@jergensinc.com.


More from Services