Isolation Transformers for Video Lines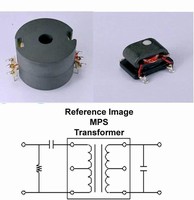 MPS Industries developed a series of low cost, high quality transformer for video isolation to support the CCTV and A/V industries.

The transformer is constructed to give ground loop isolation, help to improve the image quality by reducing the longitudinal hum which caused by earth loop currents flows due to AC or DC earth potentials, bandwidth from 25Hz up to 6MHz.

MPS video isolation transformers can be designed into different configurations for impedance matching. The commonly used are:
75W:75W for coaxial to coaxial cable (MPS P/N R3542)
75W:100W for coaxial to UTP cable (MPS P/N R3532)

Application circuit (reference only):-

MPS Industries also designs custom balun transformers for cable TV, set top box and optical hub industries from
MHz to GHz. You are welcome to visit our webpage for standard items. If you have any inquires, please feel free to contact us.

More from Electronic Components & Devices