ISL's Value-Added DC Motors Engineered for an Array of OEM Applications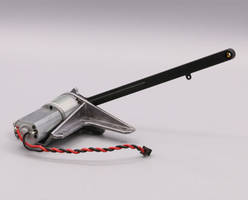 Parts Delivered in Limitless Mechanical and Electrical Configurations, Including Extremely Low Current
Syosset, NY, January 8, 2018 - ISL Products International Ltd., a global leader in value-added manufacturing and engineering services for electronic/electromechanical components, today announced the expansion of its brush and brushless DC motor and gear motor modification capabilities to further meet the exact specifications of virtually every specialized OEM application. The newly enhanced engineering capabilities target a broad range of especially low-energy designs in which high efficiency and extremely low current are required. In addition to now meeting the demands of low energy budget products, ISL's comprehensive range of value-added services ensure that all customers' design challenges are met whenever off-the-shelf motors are not suitable. Unparalleled customer support is provided throughout each stage of the manufacturing process to help OEMs cost-effectively speed time-to-market.
Built for durability, efficiency, and long life, the low current DC motors and gear motors uniquely meet the needs of battery powered equipment, and are ideally suited for use in dispensing machines (paper towel, soap, and sanitizers), cordless power tools, medical tools, robotics, and portable instrumentation/test equipment. Moreover, ISL's value-added DC motors and gear motors are currently employed in an extensive range of specialized OEM applications, such as vending machines, industrial packaging machines (labeling, cutting), automated locks and doors, medical equipment, security cameras and pool chair lifts.
Besides the ability to specify precise current limitations, customers can order brush and brushless DC motors and gear motors with exact values for essentially all electrical and mechanical parameters, including voltage, speed, torque, output power, shaft configuration, overall size, and encoder type. Motors may also be optimized to meet every applications' special operating conditions, and are offered in a variety of configurations to facilitate optimal design flexibility. Lead wires, connectors, pulley's, external gears, and sub-assemblies are further available to address the needs of any specific assembly requirements.
To learn more about ISL's value-added DC motors and gear motors, component modification capabilities and assembly services, call (888) 904-9054, submit an inquiry directly to an ISL sales engineer, email info@islproducts.com, or contact an ISL sales representative.
About ISL Products Ltd
ISL Products Limited is a global leader in value-added engineering and manufacturing services for electronic and electromechanical components. The company additionally offers a comprehensive portfolio of supply chain and logistics management services. For over 40 years, design engineers and OEM's have relied on ISL's world-wide engineering sales and support network to deliver innovative and cost-effective solutions to help accelerate time-to-market. ISL's products and services are widely employed in audio/visual, healthcare, security, industrial machinery, robotics, and food service equipment. Products include audio components, motor and mechanical components, ballasts and power supplies, potentiometers/transformers, cable assemblies and connectors. The company maintains a network of US sales representatives, and is headquartered in Syosset, NY.
More from Electrical Equipment & Systems