Ipsen USA Ships 18 Furnaces in Q2 Including Record-Breaking Vacuum Furnace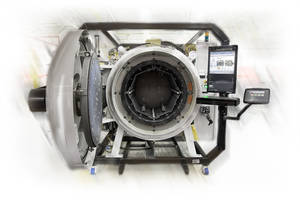 CHERRY VALLEY, IL – Ipsen USA continues its outstanding performance through the second quarter with the shipment of 18 furnaces to companies in six states in the U.S. and two companies overseas. These shipments included multiple atmosphere furnaces, plus the shipment of one of the largest vacuum furnaces Ipsen has ever built. This horizontal furnace features a 210,000-pound (95,254 kg) load capacity that is equipped with eight 35" diffusion pumps and a stainless steel shielded hot zone assembly that is capable of achieving ± 5 °F temperature uniformity.
Ten atmosphere box furnaces were shipped to a company in the Aerospace industry, while one temper furnace went to a U.S. based Commercial Heat Treater. Other shipments included three TITAN H2 (18" W x 24" L x 18" H) 2-bar furnaces and three TITAN H6 (36" W x 48" L x 36" H) 2-bar furnaces. All of these TITANs are equipped with Ipsen's unique PdMetrics® software for predictive maintenance.
Many of these companies took advantage of Ipsen's support offerings, which include Ipsen U training, spare parts kits and installation supervision/start-up. Ipsen continues to support the diverse needs in multiple industries around the world with innovative heat treatment processes that utilize the latest technology. Visit www.IpsenUSA.com/Products to learn more about the extensive solutions Ipsen has to offer.
About Ipsen
Ipsen designs and manufactures industrial vacuum and atmosphere heat-treating systems, supervisory controls systems and predictive maintenance software platforms for a wide variety of industries, including Aerospace, Automotive, Commercial Heat Treating, Energy and Medical. With production locations in America, Europe and Asia, along with representation in 34 countries, Ipsen is committed to providing 360° support for customers worldwide. Choosing Ipsen means choosing a partner in success.
Contact This Company Download Spec Sheet
More from Fasteners & Hardware