Ipsen to Feature Vacuum Brazing Equipment at MRO Americas Conference & Exhibition, April 8-10, 2014 in Phoenix, Ariz.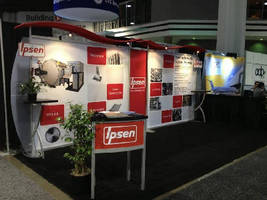 CHERRY VALLEY, IL – Ipsen (IpsenUSA.com) announced today that the company will exhibit at the 19th annual MRO Americas Conference & Exhibition, April 8-10, 2014 at the Phoenix Convention Center in Phoenix, Ariz. The company will appear at booth #2501/2503 near the entrance of the pavilion.

Ipsen representatives will be on hand at this three-day event to feature their vacuum brazing equipment, which can perform a variety of heat treatment processes to meet customers' needs. Vacuum brazing, carried out in the absence of atmosphere, uses a specialized furnace and delivers significant advantages: extremely clean, flux-free braze joints of high integrity and superior strength. Other benefits of vacuum brazing include heat treating or age hardening of the work piece as part of the metal-joining process, all in a single furnace cycle. Like conventional brazing, vacuum brazing is easily adapted to mass production, making it a popular choice in the Aerospace industry. For more information on brazing, visit IpsenUSA.com/Brazing.

About MRO Americas
The Aviation Week MRO Americas Conference & Exhibition will explore the future of aviation and defense maintenance, repair and overhaul (MRO) through a series of drill-down discussions and networking opportunities drawing nearly 6,000 industry and government professionals. The event features the industry's largest exhibition floor, which will draw more than 400 solution providers to communicate actionable solutions, build contacts and exchange ideas.

To learn more about the Aviation Week MRO Americas Conference & Exhibition or to register, visit http://events.aviationweek.com/current/mro/ or call +1-212-904-6344.  On Twitter, follow @aviationweek, @avweekevents, #MROAM, #MROMIL. To learn more about all Aviation Week events, visit http://www.aviationweek.com/events.

About Ipsen
Ipsen designs and manufactures industrial vacuum furnaces, atmosphere furnaces and supervisory control systems for a wide variety of thermal processing markets including: Aerospace, Commercial Heat Treating, Medical, Energy and Automotive. With production locations in Europe, America and Asia, along with representation in 34 countries, Ipsen is committed to providing support for customers worldwide. Choosing Ipsen means choosing a partner in success.