Ipsen Supports SKF with Atmosphere, Vacuum Heat-Treating Systems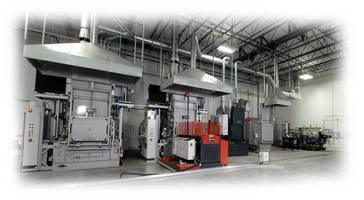 CHERRY VALLEY, IL - Ipsen recently installed both atmosphere and vacuum heat-treating systems at SKF's state-of-the-art manufacturing facility in St. Louis, Missouri. With the relocation of their existing facility to a new location, SKF continues to focus on enhancing the quality, efficiency and overall effectiveness of their heat-treating equipment. Among this new Ipsen equipment was a complete ATLAS atmosphere heat-treating system, including two ATLAS integral quench batch furnaces and ancillary equipment – washer, temper, endo generator, loader/unloader and a feed-in/feed-out station. SKF also purchased a TITAN® vacuum heat-treating system to round out their production capabilities.

Heat-treating is considered a core competency at SKF, and this new equipment will allow them to bring the majority of heat treatment in-house and efficiently handle the increase they've seen in production demands and volume of parts. Reflecting on the equipment purchased and what appealed to SKF, Bryan Stanford said, "Initially, I would say it was the general purposefulness of these Ipsen products that appealed to us. We run a very large variety of parts and batch quantities here. A custom solution designed to run tens of thousands of the same parts was not going to work for us. We wanted a low-cost, off-the-shelf-type solution that would allow us the flexibility we required – which is what the ATLAS and TITAN delivered. Now after having performed some pre-training, I would say what stands out the most is the ease of use and control of the equipment."

The ATLAS batch furnaces feature a 24" W x 36" D x 40" H (610 mm x 910 mm x 760 mm) load size with an 1,100-pound (500 kg) load capacity. They also operate at temperatures of 1,400 °F to 1,800 °F (750 °C to 980 °C) and have a quench oil capacity of 1,030 gallons (3,900 L). The TITAN vacuum furnace features an 18" W x 24" D x 18" H (455 mm x 610 mm x 455 mm) load size with a 1,000-pound (454 kg) load capacity. It operates at temperatures of 1,000 °F to 2,400 °F (538 °C to 1,316 °C). Overall, this Ipsen equipment will be used for carburizing, carbonitriding, brazing and annealing and will process a wide variety of parts that support SKF's Lubrication Business Unit. To learn more about Ipsen's integrated solutions and atmosphere and vacuum heat-treating equipment, visit www.IpsenUSA.com/Products.

About SKF

SKF has been a leading global technology provider since 1907. Their fundamental strength is the ability to continuously develop new technologies – then use them to create products that offer competitive advantages to customers. They achieve this by combining hands-on experience in over 40 industries with their knowledge across the SKF technology platforms: bearings and units, seals, mechatronics, services and lubrication systems. Their success is based on this knowledge, their people and their commitment to SKF Care principles. Visit www.SKF.com to learn more.

About Ipsen

Ipsen designs and manufactures industrial vacuum and atmosphere heat-treating systems, supervisory controls systems and predictive maintenance software platforms for a variety of industries, including Aerospace, Automotive, Commercial Heat Treating, Energy and Medical. With production locations in America, Europe and Asia, along with representation in 34 countries, Ipsen is committed to providing 360° support for customers worldwide. Choosing Ipsen means choosing a partner in success. Visit www.IpsenUSA.com to learn more.
More from Materials