Ipsen Ships 30-Plus Furnaces Worldwide, Providing a Variety of Heat-Treating Solutions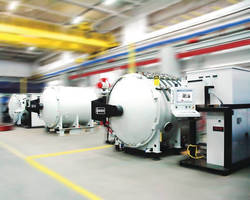 CHERRY VALLEY, IL – In recent months, Ipsen has shipped more than 30 furnaces around the globe for a variety of applications and industries. The equipment was sent to international customers in Germany, Mexico, China, Tunisia and South Korea, as well as sites within the U.S., covering a range of 12 different states. These shipments were designated for use in a diverse range of applications and industries, including Aerospace, Automotive, Energy, Mint (Currency), Commercial Heat Treating, Medical, Commercial Sporting and Surface Engineering.

More than half of these shipments were from Ipsen's TITAN® line and included horizontal and vertical TITAN furnaces with a variety of hot zone sizes, as well as TITAN Temper furnaces. Other equipment models delivered included horizontal and vertical MetalMaster® furnaces, TurboTreater® furnaces and vacuum aluminum-brazing furnaces. Of the furnaces sold, five companies bought more than one Ipsen furnace to handle their varied processes. Overall, these shipments represent Ipsen's ability to provide sophisticated and intuitive heat-treating solutions through an all-inclusive product line that supports various applications and processes.

To best support such diverse industries and needs around the world, Ipsen also delivers custom-built solutions that allow customers to tailor features to their exact specifications. With the help of Ipsen's Global Support Team – which facilitates furnace installations, as well as provides expert training and startup assistance throughout the entire lifespan of the equipment – customers are able to rely on Ipsen's expertise for the solutions they need. Visit www.IpsenUSA.com/Products to learn more about the equipment options Ipsen offers. Contact your Ipsen representative today to discuss your needs at www.IpsenUSA.com/Map.

About Ipsen
Ipsen designs and manufactures industrial vacuum furnaces, atmosphere furnaces and supervisory control systems for a wide variety of thermal processing markets, including: Aerospace, Commercial Heat Treating, Medical, Energy and Automotive. With production locations in Europe, America and Asia, along with representation in 34 countries, Ipsen is committed to providing support for customers worldwide. Choosing Ipsen means choosing a partner in success.
More from Thermal & Heating Equipment