Ipsen Delivers a Range of Atmosphere and Vacuum Heat-Treating Solutions Across the U.S.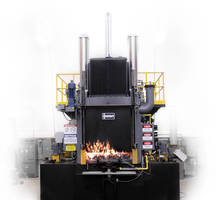 CHERRY VALLEY, IL – In recent months, Ipsen has shipped 11 heat-treating systems across the U.S. to eight different states ranging from California to Massachusetts. This equipment will be used to process parts for companies in the Aerospace, Energy, Commercial Heat Treating and Coating industries. Among the equipment was a TITAN® H6 vacuum furnace, which was rented to fill a company's immediate need for increased capacity. Two other TITAN systems were shipped with Ipsen's PdMetrics™ software platform, which provides advanced predictive maintenance and connects customers to critical information they need to optimize operations and minimize unplanned downtime.

These recent equipment shipments also included a horizontal MetalMaster® vacuum furnace with a 72" W x 156" D x 92" H (1,829 mm x 3,962 mm x 2,337 mm) radiation-shielded hot zone. This custom vacuum furnace system delivers cleanliness and uniform cooling for efficient, high-quality results. Other furnaces shipped included VFS® HEQ (external quench) and HIQ (internal quench) furnaces, as well as TITAN LT (low temperature) furnaces and H2-, H6- and H8- sized furnaces from Ipsen's TITAN line. In addition to multiple vacuum furnaces, Ipsen also shipped a complete atmosphere heat-treating system designed to provide increased flexibility and help streamline production. This system included an ATLAS integral quench batch furnace and its ancillary equipment: temper, washer, loader, endo generator and load table.

Regardless of the industry, requirements or location, the global Ipsen Customer Service (ICS) Team facilitates system installations and provides expert training, startup assistance and 360° support throughout the entire lifespan of the equipment. Visit www.IpsenUSA.com/Products to learn more about the equipment options Ipsen offers. Contact your Ipsen representative today to discuss your needs at www.IpsenUSA.com/Map.

About Ipsen
Ipsen designs and manufactures industrial vacuum and atmosphere heat-treating systems, supervisory controls systems and predictive maintenance software platforms for a wide variety of industries, including Aerospace, Automotive, Commercial Heat Treating, Energy and Medical. With production locations in America, Europe and Asia, along with representation in 34 countries, Ipsen is committed to providing 360° support for customers worldwide. Choosing Ipsen means choosing a partner in success.
More from Agricultural & Farming Products