IP Controlled, Tiny 32-ch Solid-State Relays Control card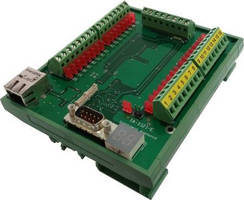 Online-Devices announces new Industrial IP Controlled, Tiny 32-ch Solid-State Relays Control card, provides 1Amp on each output, fully protected, aimed at Inductive Loads and Resistive ones.



The new Intelligent-Appliance High Efficient Solid-State Relay card, the IA-3121-E, handles 12 to 30VDC loads with a tiny voltage drop of 60 millivolts keeps temperature down as well as space volume.



This compact structure may be used as a Power Digital Output creature with an Output Sink current of over an Amp, ideal tool for operating Led Lamps, Solenoids or any other load that should be operated thousands of times an Hour without adding the original relay clicking noise and its end of life counting down watch, getting closer each tick.



The IA-3121-E that is controlled by a TCP/IP port may be used as an RS-232 expanding port as well, chaining RS-232 boards to the Ethernet net. Intelligent-Appliance Series-3000 products makes the best choice for it.



Furthermore, Intelligent-Appliance provide high performance control boards for almost all industrial industries such as Factory floor, Machine automation, Automatic Data Acquisition Systems, Industrial Robotics, Smart Home Systems, Green Energy, Solar Panel Controlling and much more!



Our products may be controlled by USB, TCP/IP (LAN), RS-232, RS-485, Wireless and be daisy-chaining up to 256 modules on single communication port.



More from Architectural & Civil Engineering Products