Introducing New Mobil DTE 10 Excel Series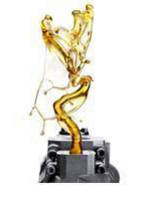 A new standard in energy efficient productivity

The new Mobil DTE 10 Excel Series is engineered to better address the lubrication demands of a new generation of high-pressure industrial and mobile equipment - helping you reduce power consumption and increase machine output surpassing even our standard-setting Mobil DTE 20 Series and Mobil DTE 10M Series hydraulic oils.

A product of the latest in hydraulic fluid technology, these state-of-the-art lubricants can offer great advantages:

o Quantifiable increase in hydraulic efficiency - up to six percent better than a typical reference fluid -can help reduce energy consumption or increase machine productivity.*

o Visibly better system cleanliness, for more productive operation and decreased machine maintenance. Systems stay free of deposits for up to three times longer than competitive fluids in Mobil Hydraulic Fluid Durability laboratory testing.

o Excellent shear and thermal stability allows for maximum equipment protection and performance at high- and low-temperature extremes.

* Energy efficiency relates solely to the fluid performance when compared with ExxonMobil's standard hydraulic fluids. The technology used allows up to 6% increase in hydraulic pump efficiency compared with Mobil DTE 20 Series when tested in standard hydraulic applications. The energy efficiency claim for this product is based on test results on the use of fluid conducted in a controlled laboratory environment in accordance with all applicable industry standards and protocols. Actual results may vary depending on operating conditions.

More from Packaging Products & Equipment