Introducing Custom Electronic Assemblies from Foster Transformer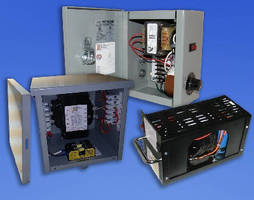 Cincinnati, OH -- Foster Transformer Company introduces its custom electronic assembly capabilities.  Expanding from its flagship transformer product line, Foster is now providing complete power supply and control box assemblies.  Complete linear, linear regulated, and ferroresonant power supplies, AC distribution boxes with relays and overload protection, designs incorporating NEMA enclosures, and fully encapsulated products to withstand the harshest environments are among the products Foster can provide to streamline its customer's operations.  Foster can also integrate wiring harnesses, private label, and package for direct shipping.



The company has over 18,000 transformer designs in their database, many safety-agency certified, so they can readily adapt an existing design to save time and cost.  They have over 75 years of experience and hundreds of transformers certified by UL, Intertek ETL, and TUV Rheinland.  Common applications for their core transformers include but are not limited to low voltage lighting, battery charging, medical, appliance and vending, induction heating, and heat sealing. 



Foster can supply industry standard terminals including insulated and non-insulated quick connect tabs and receptacles, and virtually any commercially available connector.  Factory applied Molex® Mini-Fit Jr™ terminals provide a simple one-click method of the transformer to required equipment, thus saving installation time while reducing errors.  All terminal are applied automatically as the lead wires are being cut, thus improving quality compared to hand tools or bench presses.  Integrating the wiring to operate other line-voltage equipment, such as fans, motors, relays and contactors with custom wiring harnesses can replace a power distribution terminal block and simplify installation. 



Foster Transformer has been making electronic transformers, power supplies, and electromagnetic components for over 75 years.  Their corporate headquarters, Engineering Lab and primary manufacturing facility are located in Cincinnati, OH.  The ability to manufacture their own tooling, fixtures and unique production machinery, allows Foster to provide quick turnaround, start-up and support low-to mid volume from the Cincinnati plant.  Foster has additional manufacturing capacity available in China to support long run, high volume applications.  For more information contact Foster Transformer, 3820 Colerain Avenue, Cincinnati, OH  45223, (800) 963-9799, or info@foster-transformer.com.

More from Chemicals & Gases