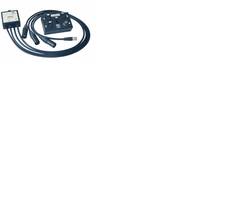 Tidying the orchestra pit...
SDS903 SDS904 Shannon Slaton - Theater Sound Designer I have been designing and mixing musicals for years-decades, actually - and I am always looking for ways to improve things. Whether it is how we deal with Clear-Com or video, or whether it is how we program the console and sound cues, I am always looking for better, easier, or more logical ways. One of the complicated aspects of doing musicals is dealing with the orchestra and the pit. It's a lot of cable running everywhere for all kinds of things, and it takes a long time to set it up and test it. I am always looking for anything that can make the process of cabling an orchestra pit easier or quicker, and the InstaMusician series of baluns by ETS definitely does that.
I have now used the InstaMusician on the national tour of Bullets over Broadway two Elf tours, and the international tour of Shrek, and my pits have never looked so clean and been so easy to cable and troubleshoot. I have a friend who suggested using it to run a chorus position, which he is now doing for all of his musicals. With one shielded Cat5 run to a chorus booth, he has a mic line, monitor feed, conductor video shot, and a spare line to boot.
These are great devices and very cost-effective. Give them a try and tidy up those pits.
Visit! Energy Transformation Systems, Inc.
Website: http://www.etslan.com
About ETS - Woman Owned Small Business
Fremont, CA - Since 1967, beginning with custom-made transformers and continuing since 1981 as innovators of balun, hub, adapter and splitter technology, ETS provides a wide range of media conversion solutions for audio, data and video for analog or digital installations over structured wiring systems. ETS provides you solutions with 100% guaranteed USA-Made products.
ETS (T) 800-752-8208, 510-656-2012
(F) 510-656-2026
Sales Contact:
Name: Joe Rosenberger,
ETS Sales
Email address: jrosenberger@etslan.com
800-752-8208 or 510-656-2012
More from Chemicals & Gases