Inflatable Stoppers Solve Motorway Crisis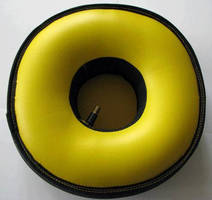 A leading European highway authority has just placed a significant order for Huntingdon Fusion Techniques Limited's (HFT) large inflatable Pipestoppers(TM)

The French Authority had struggled to devise a solution, to combat the problem of potentially lethal vehicle fuel spilling into the transport drainage systems following traffic collisions.

This possibility could prove extremely dangerous to major sections of the road and motorway, throughout mainland Europe.

In response to the customer requirements, the Pipestoppers(TM) Division of Huntingdon Fusion Techniques Limited offered and received orders for number of their Raft style inflatable pipestoppers(TM) to put into place during fuel spillages.

These large, 'pancake' shaped stoppers are normally used to leak test or block pipework and due to their construction are totally collapsible after deflation, light in weight and easy to handle.

The inflatable outer ring has a bonded neoprene rubber layer to provide an excellent seai and to provide resistance to petrochemical fuels.

A variety of sizes and styles is available from 50 mm up to 2000mm diameter.

HFT's customer was so happy with the product, that they have already placed a repeat order!

Related