Industrial Man Lifts Offers Unique Truck Mounted Industrial Lifts for Improved Efficiency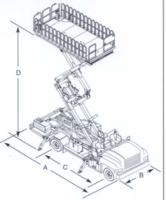 Striving to enhance workplace efficiency in various industrial settings, Industrial Man Lifts offers unique truck mounted options for easy maneuvering.
St. Petersburg, FL; 02/17/2017: Industrial Man Lifts offers a number of different configurations for various industrial lifts and ladders, including truck-mounted models. These are specially designed to provide aerial access in remote applications. Truck mounted scissor lifts are one of their most in-demand equipment. Their engineers and trained technicians work hard to offer innovative solutions to aerial access problems, well-suited and adaptable to various work environments.
Industrial Man Lifts is an aerial access and material handling equipment manufacturer, with a customer-centric business approach. Their line of equipment includes lifts, ladders, cranes, maintenance platforms and ground support equipment. In addition, their technicians also offer expert guidance to clients looking for suitable industrial equipment. The company also offer customized lift platforms and other equipment to help meet specific application requirements.
Certain applications require workers to reach a specific height and/or access elevated levels. Others may require maneuvering from one site to another or from one position to another in larger facilities. Truck mounted lifts make it easier to maneuver around and get the job done. For example, in construction industry, it is important to move to the next job site as soon as the work is completed at the first. Truck mounted scissor lifts are usually utilized to make this easier and quicker.
"Truck mounted models are versatile in terms of their usage. You can see them operating in aviation industry, warehouses and other places. Plus, they can be used for a number of repair and maintenance tasks. It's easy to move them around so they're often used in place of ordinary lifts. But you can't do vice versa. If an application requires a truck mounted model, it is better to use it instead of risking the job," explained the company's spokesperson.
These truck mounted models and other configuration are all carefully designed for ease application. Their design technicians and engineers work together to introduce efficient aerial lifting solutions, suitable for both the task at hand and the personnel carrying out the task.
"User safety and comfort is as important as getting the job done. We make sure our equipment is designed keeping in view the specifics of an application and worker's requirements," concluded their spokesperson.
The company offers a comprehensive list of lifts and ladders for various applications. Further information about these products can be found on the company's website.
About the Company
Industrial Man Lifts is a comprehensive access platforms and equipment provider, offering solutions suited for industrial needs. The company also provides custom fabrication for a range of equipment, in order to better meet the application requirements. Their client base includes factories and other companies from around the world.
Industrial Man Lifts
1299 66th St. N.
Suite 41694
St Petersburg FL 33710
Phone: 727-490-8839
url: https://www.industrialmanlifts.com/
Contact:
Peter Vasquez
email: sales@industrialmanlifts.com
More from Controls & Controllers