Inductoheat, Inc. Ships Fully Automated Heat Treating System to Major Automotive Supplier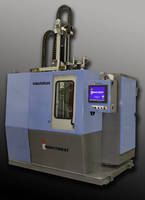 Madison Heights, MI -- Inductoheat Inc., recently shipped a fully automated single-shot induction hardening and tempering system to a major supplier of critical automotive steering components. At the heart of this heat treating system is Inductoheat Inc.'s InductoScan®, a heavy-duty, modular induction heat treating machine. This machine is equipped with a built-in power supply, quench containment, and integral heat treating station, drastically reducing its footprint.



The equipment controls package is a PLC with an intuitive 12" touch-screen HMI interface. This proven technology has the latest in graphical visualization software and features: return part recipe management, process monitoring with data archiving, data logging, motion program, and fault help.



The automation is carried out by a part conveyor and standalone robot. This feature takes advantage of the standard robotic interface, a common feature among all InductoScan® units. This automated process has created a system that produces heat treated parts of an exceptional quality at a consistently high rate of speed.



For more information about this or additional induction heating applications, contact Inductoheat Inc. at sales@inductoheat.com or by phone at 248-585-9393. Feel free to also visit Inductoheat Inc. online at www.inductoheat.com.



Inductoheat Inc, one of the forty companies making up the Inductotherm Group, manufactures advanced induction heating equipment. Inductoheat Inc. offers everything from general purpose to fully customized heat treating and annealing machines, pipe end heaters, crankshaft and camshaft heating machines, and copper tube annealing plants.



Inductotherm Group is the technology pacesetter for the engineering, manufacturing, and service of thermal processing equipment used in the melting, heat treating, forging, rolling, cutting, and welding of metals. Bringing together 40 companies with 23 manufacturing facilities and 11 sales and service centers located in 19 countries around the world, Inductotherm Group maintains an unduplicated global network relied upon by customers across a broad range of industries.







More from Packaging Products & Equipment