Induction Hardening & Tempering System for Drivetrain Components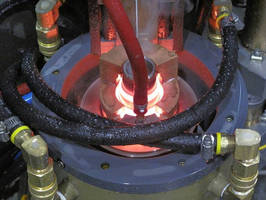 Madison Heights, MI - Inductoheat, Inc., the world's leading induction heating equipment manufacturer, recently shipped an induction hardening and tempering system to a major drivetrain component supplier. This machine is designed specifically for hardening and tempering hub spindles and outer ring hubs.

This equipment is comprised of a STATISCAN® IV system for induction hardening, using alternating coils for two different parts and a STATISCAN® II system with a channel coil for induction tempering. To achieve the ideal case depth and hardness patterns the system included two power supplies, a UNIPOWER® UP16 200kW for hardening, and a STATIPOWER® SP16 50kW for tempering.

Up to 80 parts per hour travel through the hardening portion of the system using a 2-axis gantry with absolute feedback, while a continuous feed conveyor moves the parts through the tempering section.

The equipment controls package is a PLC with 12" touch-screen PC-HMI interface. This proven technology has the latest in graphical visualization software and features: part recipe management, Process monitoring with data archiving, data logging, motion program and fault help.

Several additional features include: Water recirculation system, quench recirculation system, automatic lubrication system, pyrometer on tempering system for process monitoring, and horizontal servo positioning on the hardening inductors.

More from Controls & Controllers