Induction Hardening & Tempering System: Driveline Components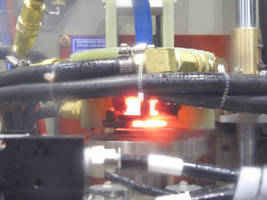 Madison Heights, MI - Inductoheat, Inc., worlds leading induction heating equipment manufacturer, delivers an Induction hardening and tempering system to a leading supplier of driveline components. This machine was designed specifically for hardening and tempering hub spindles and ball races.

The equipment is comprised of a STATISCAN® IV unit for induction hardening and a STATISCAN® II unit for induction tempering. The part goes through a (8) station cycle using the following material handling features; (4) pneumatic linear transfer 180º grippers, (2) pneumatic accept / reject arms and a continuous feed conveyor.

Each of the (8) stations adhere to the following responsibilities; Station 1: parts are automatically loaded, Station 2: pneumatic part locator and check, Station 3: induction hardening O.D. of hub shaft, Station 4: I.D. auxiliary quench cooling, Station 5: pneumatic exist and acceptable parts are transferred onto the tempering system conveyor, Station 6: parts travel through a channel coil for tempering, Station 7: conveyor quench cooling and Station 8; automatic part unload for accepted parts or exit conveyor for rejected parts.

There are two induction power supplies for this compact system. The hardening inverter is a UNIPOWER® UP12 power supply which provides 200 kW @ 10 kHz and a STATIPOWER® SP16 power supply offering 50 kW @ 10 kHz for the tempering portion.

Allen-Bradley® PLC controls with touch-screen HMI interface, and process monitoring offers superior process control and monitoring capabilities assuring the highest quality and repeatability. For system cooling and part quenching, an integrated closed-loop water recirculation system is included.

Other features include:

o Auto reject following both harden and temper cycles.

o Process monitoring with data archiving.

o Hardening module offers an auto lubrication system.

o Pyrometer on tempering system for process monitoring.

STATIPOWER, UNIPOWER and STATISCAN are trademarks owned by Inductoheat, Inc.
Allen-Bradley is a trademark owned by Allen-Bradley, LLC.