Incremental Encoders Now Feature Customer Programmability to Satisfy Specific Application Needs, Reduce Inventory Requirements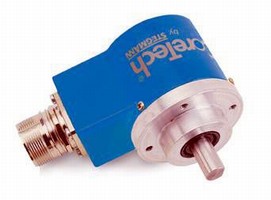 DAYTON, OH - DRS21 CoreTech® Incremental Encoders from SICK STEGMANN, INC. are now available in a freely programmable version. This unique and powerful functionality allows customers to freely program the width of the zero pulse and the number of lines from 1 to 8,192.

Provided in industry-standard 2 inch housings, the DRS21 family features opto-ASIC with chip-on-board technology for maximum reliability, and automatic light regulation for long LED life. Square flange, servo flange and face mount versions are available, with 0.25 and 0.375 inch, and 10mm, solid shafts.

Customer programmability allows end users to benefit from reduced inventory requirements, immediate availability and reduced downtime. OEM's benefit by being able to use the encoder to determine the optimum PPR for their machine, while providing immediate reprogramming of the encoder to suit specific customer needs. Integrators and consulting engineers no longer need to inventory multiple encoders with various PPR's, and distributors can program the encoder at their location prior to shipping it to the customer.

SICK STEGMANN, INC. is a wholly owned subsidiary of SICK AG in Waldkirch, Germany. SICK|STEGMANN is a world leader in the design and manufacture of incremental, absolute and linear encoders, as well as motor feedback systems.

SICK STEGMANN, INC., 7496 Webster Street, Dayton, OH 45413; (800) 811-9110; (937) 454-1956; fax: (937) 454-1955; email: sales@stegmann.com; or visit www.stegmann.com.

More from Software