Incredibly Potent 16C/32T AMD Ryzen 9 in this Sleek Superlaptop Powers the Ultimate Home Desktop-Replacement System Professionals Can Boldly Take Anywhere!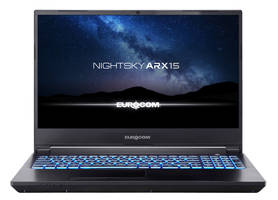 Overview
Due to the global pandemic, businesses of all sizes are rapidly migrating away from offices where many are forced to quickly adapt to the new normal of working from home. As home offices become more essential, so is the need to have a robust and reliable computer setup as the backbone of any home office infrastructure. Eurocom Superlaptops, such as the Eurocom Nightsky ARX15, are designed for professional and personal use as it is able to provide excellent performance, strong security and long lifespan, to name a few. This is to ensure that employees of all types- from creative professionals to IT engineers- have all the computing tools they need to be productive and excel in a work from home environment.
"The ARX15 from Eurocom gives me the best balance of working from home and complete power-on-the-go. The sleek design and slim bezel panel represents a modern appearance that makes it ideal for professional environments, meetings, or presentations - while the unmatched multi-core performance of the AMD Ryzen CPU enables the power at home needed to serve as my primary workstation too - for rendering 3D graphics, compiling code, designing software - or any combination thereof.
The unit packs more performance into a 15" frame than pretty much every other laptop out there at the moment - and so while it is certainly not a 'featherlight,' the impressive design makes it even fine for taking around the city to work from cafes or co-working spaces. I love it!" -Derrick Schwabe, Identify Digital Media, Inc.
The Most Powerful AMD-based Laptop in the World
Eurocom laptops are known for having a powerful GPU/CPU combination, and the Nighstky ARX15 is no different (up to RTX 2070 and AMD Ryzen 9 3950X). This 15.6," 5.7lbs/2.6kg, Superlaptop is the newest system in a long line of Eurocom's high performance laptops to easily run even the most hardware-demanding applications or programs. The AMD Ryzen 9-series CPUs are perfect for IT professionals and power users who want to significantly reduce their rendering times. Via the AM4 CPU socket technology on the AMD B450 chipset, the Nightsky ARX15's CPU is changeable, serviceable and can be upgraded in the future. This unmatched upgradeability gives this Eurocom Superlaptop massive power and a longer lifespan compared to non-upgradeable laptops, making it the ideal companion for all users working remotely or from home. The potent mix of high-end GPU and CPU hardware makes the Nightsky ARX15 as the world's most powerful AMD laptop available today.
Designed for Professionals Working from Home
Aside from its absurdly powerful workstation-level CPU and GPU, the ARX15 Superlaptop has many features that is geared for IT Professionals of all types who are now required to do the majority of their work from Home.
Storage, Memory & User Upgradeability
Users who desire the maximum amount of storage space and memory/RAM in their laptops, the Nighstky ARX15 has easy-to-access, user-upgradeable storage and memory slots that can support up to a whopping 16 TB of storage data over three drives. These include an M.2 2280 SSD via PCI-Express 3.0 x4 or SATA III, one M.2 2280 SSD PCI-E 2.0 x4 as well as an added 2.5"" SSD/HDD (7 mm). The Nightsky ARX15 can also be configured with up to a massive 64GB of DDR4 RAM in order to handle even the most demanding projects and applications. 
For connectivity, the Nightsky ARX15 has 1xUSB-A 2.0, 2xUSB-A 3.2 Gen 2, 1xUSB-C 3.2 Gen2, 1xMini DisplayPort 1.4 (supports G-SYNC-compatible monitors), 1xHDMI 2.0 (with HDCP 2.2), Headphone-Out, Mic-in, an RJ45 Port as well as a microSD card reader.
A major feature of Eurocom laptops like the Nightsky ARX15 is its modular, socketed design that allows users to keep this powerhouse laptop as cutting-edge as they desire. No matter how power users prefer to configure their EUROCOM Nightsky ARX15, they will have the utmost freedom to push limits and reach new heights, whether it is for work, in game or both.
Security & Defense
All Eurocom laptops come with multiple layers of security to ensure that the critical data stored or processed remain safe and uncompromised. These 4 layers of defense include: a fingerprint scanner, embedded TPM 2.0 crypto processor, BIOS disk encryption and a Kensington Lock. Combined with software-based security options, the Eurocom Nightsky ARX15 ensures that crucial data stays secure from both a hardware and software standpoint.
No Bloatware or Unnecessary 3rd Party Apps
Similar to smartphones and other devices, most laptops come pre-installed with unwanted 3rd party trial software (such as antivirus software, web browsers, cloud storage, etc.) that promote their own products and frequently notifies users to upgrade to the full version. In some cases, bloatware or 3rd party software cannot be permanently removed, deleted or uninstalled. This can be a great nuisance and quite detrimental to an employee's productivity when it occurs in laptops or computers dedicated to professional work.
On the other hand, Eurocom laptops do not come preinstalled with any bloatware or 3rd party programs that are not necessary for the system to function. Eurocom only installs the user's desired operating system if this service is needed by the user. Otherwise, the user is able to install their own compatible OS as they see fit, without the worry of any extraneous software being installed in their systems.
Through powerful and reliable high performance systems like the Nightsky ARX15 Superlaptop, Eurocom helps IT planners, architects and managers adapt to the "new normal," where users are required to work away from their main office locations and need distributed, yet secure, computing power.
Eurocom Nightsky ARX15 Resources:
Configuration Page: https://eurocom.com/ec/configure(2,463,0)NightskyARX15
Benchmarks: https://eurocom.com/ec/benchmarks(463)NightskyARX15
Images: https://eurocom.com/ec/images(463)NightskyARX15
Brochure: http://net.eurocom.com/download/m463_Brochure.pdf
About Eurocom:
Eurocom is the leading developer of long-lifespan, fully upgradable notebooks, as well as, high-performance mobile workstations and servers since 1989. Eurocom prides itself as an Industry leader in providing ground-breaking technology and continues to engineer innovative solutions that inspire individuals and companies to new growth and development. For more information on Eurocom please visit us at www.eurocom.com
Contact: Dayne Apilado | Sales and Marketing Team | facebook.com/EurocomTechnology| Twitter |613-224-6122|sales@eurocom.com
Related