Increased Efficiency in the Plastics Industry with APROL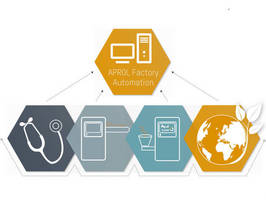 Integrated automation from a single source



Plastics processing machines already feature an extremely high degree of automation. If they're going to further optimize their production processes, manufacturers in the plastics industry have to look for solutions that improve overall plant efficiency across the board. This means including auxiliary buildings, energy and utilities as well as the entire plant infrastructure in the equation. "Better than any other system on the market, integrated automation technology from B&R does precisely that," states Thomas Rienessl, plastics industry expert at B&R. "With a system that reaches from the I/O level up to the process control system for the entire plant, B&R offers a complete solution cast from a single mold."



Complete system – Complete consistency



B&R's APROL process control system makes it possible to unite plant systems centrally into a complete system using any conceivable hierarchy. With a broad spectrum of functions – including integrated system simulation using MATLAB/Simulink – all levels of automation can be combined into a homogeneous complete system. With direct integration of external systems and signal sources, APROL allows an all-encompassing approach that ensures reliable and efficient operation of the system over its entire service life.



Condition monitoring increases quality and reduces costs



Continuous condition monitoring increases the quality of products and the availability of machines and plants, while at the same time reducing maintenance costs. B&R's APROL ConMon solution package provides vibration monitoring and analysis based on key condition parameters calculated from acquired measurement data.



Energy monitoring sheds light on real energy costs



When it comes to improving production efficiency, the first step is to analyze where, when and how much energy is actually being consumed. The APROL EnMon solution is used to acquire all relevant energy data and generate comprehensive reports for its evaluation and interpretation. This easily integrated complete solution, which runs on B&R's Automation PC 910, is a simple way to implement the requirements specified in ISO 50001. APROL EnMon helps considerably reduce energy consumption, with the resulting financial savings strengthening users' competitive edge.



Process data acquisition for the entire plant



Comparing the efficiency of each machine is the first step. APROL PDA (Process Data Acquisition) supports the often difficult task of recording process data throughout the entire production chain. Individual machines can quickly react to production parameter deviations by either compensating for them or stopping production. "The system centrally and seamlessly archives all data for as long as it is needed," says Rienessl. "This not only ensures that manufacturing process quality can be verified, but also improves overall competitiveness."

 

B&R Industrial Automation Corp.

Attn: Yvonne Eich, Marketing & Communications Coordinator

1250 Northmeadow Parkway, S-100

Roswell, GA 30076



B&R company profile



B&R is the world's largest and most successful private company in the area of automation equipment manufacturing. The motto "Perfection in Automation" has provided the foundation for the company since B&R was founded in 1979. Today, B&R employs 2,500 employees worldwide and has an exceptional global presence with 175 sales offices in 75 countries.



As a global leader in industrial automation, B&R combines state-of-the-art technology with advanced engineering to provide customers in virtually every industry with complete solutions for machine and process automation, motion control, HMI and integrated safety technology. With industrial fieldbus communication standards like POWERLINK and openSAFETY as well as the powerful Automation Studio software development environment, B&R is constantly redefining the future of automation engineering.



B&R Industrial Automation, Inc. North America, based in Atlanta, GA, has been working closely with its customers since 1987. Since then, B&R North America has continuously grown as a sales and support organization through both direct sales offices and B&R's unique Automation Partner distribution network. Today, B&R North America has a network of 25 offices throughout the USA and Canada and is there for its customers locally.   For more information, please visit www.br-automation.com.

More from Laboratory and Research Supplies and Equipment