IMTS 2008: Bosch Rexroth to Focus on CNC and Machine Tool Automation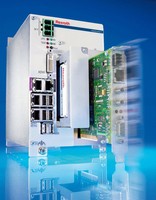 Company to feature automation technology products and applications that improve speed, precision, uptime, and safety for CNC and machine tool operation, September 8-13 at IMTS, booth D-4320.

Rodless Cylinders

MTX Advanced

Electromechanical Cylinder

Variable-speed Pump Drive

(Chicago, IL - www.boschrexroth-us.com/machinetool) Bosch Rexroth, the Drive and Control Company, will exhibit a broad range of automation products and applications for machine tool and CNC operation, September 8-13 in Chicago at IMTS, booth D-4320.

The company will feature new machine tool automation and CNC products from its electric drives and controls, pneumatics, hydraulics, linear motion and assembly technology groups, demonstrating how Rexroth components and systems work together to provide a complete integrated automation solution.

In addition to the Rexroth "walls of automation and CNC control" the booth will include several operational multi-technology and application-based exhibits demonstrating the scope of Rexroth's machine tool and CNC automation offering.

Product highlights in the booth will include:

Pneumatics: New RTC Rodless Cylinders

Designed for high precision, compact dimensions, high performance, or cost-effectiveness - Rexroth RTC rodless cylinders are available in four versions. The basic version RTC-BV (Basic Version) is suitable for universal use, while the RTC-CG (Compact Guide) version offers high precision packed into compact dimensions. The RTC-EG (E-line Guide) represents the most cost-effective guided version of the new rodless cylinders. The RTC-HD (Heavy Duty) version is designed for handling heavy loads.

The RTC series is available in diameters of 16-80 mm (5/8"-3") and with a maximum stroke length of 9,900 mm (32.5 ft.), depending on version and size, and is available with ISO-G or NPT ports.

Machine Control: New Advanced MTX CNC System

The IndraMotion MTX system is a reliable, high-productivity machine tool CNC for grinding and forming operations. Supporting up to 64 axes of motion and 12 independent CNC channels, it contains all the components--drives, controller, operator software and a powerful engineering framework--optimized for machine tool automation.

The MTX advanced version joins the Rexroth line of MTX compact, MTX standard and MTX performance versions, adding more to the upper end of performance. It features a new high-end CPU for PC-based systems, providing high manufacturing precision down to the nanometer range, and the shortest CNC and PLC processing times for the most dynamic machining and shortest cycle times.

Linear Motion: New Electromechanical Cylinders

New Electromechanical (EMC) Cylinders provide high thrust, high speed capabilities with greater flexibility and control to applications traditionally using hydraulic or pneumatic cylinders.

The EMC cylinders' combination of power, speed and corrosion-resistant construction, makes them ideally-suited to applications in material handling, assembly and robotics, metal forming, and other industries.

The EMC cylinders contain a precision-rolled ball screw actuator, providing high positioning accuracy and repeatability while eliminating stick-slip effect. The cylinders are available in six sizes ranging from 32 to 100, with stroke lengths of up to 2,000mm, and speed capabilities of up to 1.6m/sec. Each unit is rated to an IP65 degree of protection.

Hydraulics: New Variable-speed Pump Drives

With variable-speed pump drives, Rexroth opens up new possibilities of cutting lifecycle costs. Conventional variable displacement pumps with asynchronous motors control the displacement and pressure via internal control mechanisms. However, with the variable-speed pump drive Rexroth relocates the closed-loop control into the converter. During times when little or no hydraulic flow is required, the frequency converter reduces the speed of the electric drive and the fixed displacement motor. This reduces energy consumption, hydraulic power losses, and noise emission. As soon as the hydraulic system requires more power, the converter adjusts the speed accordingly.

Other key Rexroth product highlights at the show will include:
o Electrohydraulic controls

o Pneumatic part present sensing

o Linear motion modules and components

o Electric motors, drives, HMIs and controls with I/O

By showcasing application areas for machine tool automation Bosch Rexroth is demonstrating how companies can improve speed, precision, uptime and safety for CNC and machine tool operation.

Bosch Rexroth AG, part of the Bosch Group, achieved sales of approximately $7.4 billion (5.4 billion Euros) in 2007 with nearly 33,000 employees. Under the brand name of Rexroth the company offers all drive and control technologies, from mechanics, hydraulics and pneumatics to electronics and associated service. Over 500,000 customers worldwide utilize Rexroth's unique technological know-how to implement their innovative and future-oriented systems and machine concepts. The global player, represented in over 80 countries, is an extensive supplier of components and systems for industrial and factory automation and mobile applications. Visit www.boschrexroth-us.com for more information.

For more information about Rexroth's involvement in CNC and machine tool automation, visit www.boschrexroth-us.com/machinetool.


More from Packaging Products & Equipment