If It's Not a Wilton B.A.S.H It's Just Another Sledge Hammer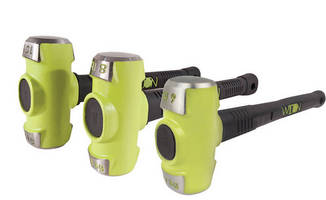 LaVergne, TN - The Wilton® B.A.S.H® Sledge Hammers with Unbreakable(TM) Handle Technology are the world's most durable hammers. No other sledge hammers on the market today can endure the same degree of punishing treatment. Here's a prime example: It's not often when you see a sledge hammer fastened to vehicle's bumper. But in this case, it was no ordinary sledge hammer, it was a Wilton B.A.S.H (Bad Ass) Sledge Hammer and it was connected to the front bumper of a six-ton work truck. Well, somehow this truck began rolling backwards off an embankment and on its way into oncoming traffic until the front bumper caught a light pole. As the light pole began shearing off the bumper, its momentum stalled, then stopped once it came in contacted with the Wilton BASH sledge hammer. This saved the truck and other potential vehicles from near disaster.

"It may be the only sledge hammer you'll ever own," said Tim Onello, Wilton's Director of Product Management. "BASH is the solution to overstrikes and head separation, which are both major safety concerns."

Two years in development, the innovative Wilton B.A.S.H. Sledge Hammer product line features a steel core design that prevents breakage during overstrikes, which is the most common cause of failure in wood and fiberglass handled sledge hammers.

B.A.S.H. Sledge Hammers are 400 percent tougher than models with wood or fiberglass handles. In an overstrike test conducted by an independent lab, mechanical overstrikes were calculated before the handles broke. Leading competitors' wood handles broke after 435 strikes, while fiberglass handled sledge hammers failed at 6,800 strikes. The B.A.S.H. Sledge Hammers were tested at 25,000 overstrikes and were still were going strong.

Swinging a sledge hammer and you'll understand why losing the head is a serious safety hazard. B.A.S.H Sledge Hammers solved this safety issue by lodging a hardened steel safety plate that secures the head with six steel rods (shorter handle models use four steel rods). These rods are bound together, locking down the hammer head to eliminate dislodgment. They run the entire length of the handle and serve as the handle's core.

Wilton's ergonomic, full-length, textured rubber, non-slip handle grips also distinguish the BASH Sledge Hammers. These grips are made of vulcanized rubber and resist oil and other solvents. Plus, vibration is minimized by incorporating an anti-vibe neck on the handle's collar and surrounding it with thick rubber padding. Just below the bottom of the handle is a steel reinforced hole to loop and secure a lanyard.
Hi-vis green heads add instant identification and recognition in jobsites and other work areas. The hammer's durable, drop-forged steel heads are stamped with the hammer's weight in pounds and kilograms. Also, for easy retrieval, when the hammer is placed on end, it stands erect.

There's a wide variety of Wilton BASH Sledge Hammers to meet every need from 2.5 lb. to 20 lb. heads and 12 to 36 in. handles. Industrial users include professionals in construction/demolition, landscaping, concrete and masonry, mining, railroading, and other heavy-duty sledge hammer applications.

Soft-Face B.A.S.H Sledge Hammers

Soft face B.A.S.H Sledge Hammers have all the features of conventional B.A.S.H hammers, but are specifically designed to mushroom when striking hard base materials.

These soft face heads are drop-forged steel with hi-vis heads hardened to 30HRC (Rockwell Hardness). Typical applications include mining, railroads, cutting tools and maintenance on hard metal surfaces. The soft face B.A.S.H Sledge Hammers are available with 2.5 to 14 lb. heads and 12 to 36-in. handles.

Break the handle of a Wilton B.A.S.H sledge hammer under normal use and within two years of purchase, and Wilton will cut a $1,000 check in your name.

To locate a dealer for Wilton B.A.S.H. Sledge Hammers, visit wiltontools.com and click on Where To Buy. Enter the product's stock number and your zip code and the nearest dealer(s) will be identified. B.A.S.H. Sledge Hammers are available through industrial distributors and several online retailers. For further assistance, contact Consumer Relations at 800-274-6848, 8 a.m. to 5 p.m. (CST, Monday-Friday).

About Walter Meier (Manufacturing), Inc.

Walter Meier (Manufacturing), Inc. is a subsidiary of Walter Meier Group, a dynamic organization that delivers top quality manufacturing and climate control technologies worldwide. Walter Meier (Manufacturing), Inc. is headquartered in LaVergne, TN, and is the proud owner of WILTON®, JET®, and POWERMATIC® brands. The company has more than 4,000 dealers nationwide. From metalworking and woodworking machinery to material handling equipment and hand tools, the company's industry-leading products offer unsurpassed workmanship, performance and durability. This dedication to excellence has made Walter Meier (Manufacturing), Inc. a preferred supplier throughout the industrial marketplace.

More from Electrical Equipment & Systems