ICONICS AnalytiX®-BI Software Solution Wins Control Engineering Engineers' Choice Award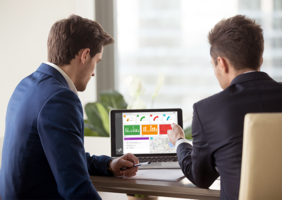 Foxborough, MA – February 4, 2019 – ICONICS is a global automation software provider and six-time winner of the Microsoft Partner of the Year award, providing advanced web-enabled OPC UA and BACnet certified visualization, analytics, and mobile software solutions for any energy, manufacturing, industrial or building automation application. ICONICS AnalytiX®-BI has won the Control Engineering Engineers' Choice Award in the Software – Data Analytics category, the publication announced on February 4, 2019.
Control Engineering, part of CFE Media, awarded products in 26 categories of control, instrumentation, and automation products introduced in 2018, as chosen by print and online subscribers. This is the 32nd year of product recognition for the publication, highlighted in the February 2019 monthly edition, in several newsletters and on the web at www.controleng.com/EngineersChoice.
"Moving rapidly and easily from data to information, without help from IT or a data scientist, is critical for many operations," said Mark T. Hoske, Control Engineering editor/content manager about the subscriber-selected winning product in the category for Software – Data Analytics, "I can appreciate why subscribers awarded this product."
"ICONICS is honored to have won the 2019 Control Engineering Engineers' Choice Award for AnalytiX-BI," said Russ Agrusa, President and CEO of ICONICS. "This powerful tool turns big data into actionable intelligence and helps customers 'Make the Invisible Visible'. AnalytiX-BI is used worldwide to help organizations access, process, model and provide clear context for their valuable data."
ICONICS AnalytiX-BI opens up new possibilities for analyzing business intelligence (BI) information within an operational context to reduce costs and maximize efficiency. It improves data accessibility, enables analytical processing, and provides data modeling/context with incredible performance and intuitive visualization. AnalytiX-BI, combined with KPIWorX™, an innovative self-service dashboard technology, turns big data into actionable intelligence. It offers intuitive point-and-click data models and powerful query technologies that bridge IT, management, and business systems.
"Innovative technologies, such as AnalytiX-BI software from ICONICS, and smart implementations help control engineering applications add value," Hoske said, "Wise investments in the best products can help solve the most pressing challenges in automation, control, and instrumentation."
About the Recognition
More than 102 product nominations from 44 companies or major divisions were entered for consideration in the 2019 Engineers' Choice Awards. Control Engineering subscribers voted to identify the products they felt were the most exceptional based on technological advancement, service to the industry, and market impact. Engineers' Choice Award winners and honorable mentions were named in 26 categories. Awards will be presented as part of the 2019 Engineering Awards in Manufacturing event held on April 8, 2019, in Chicago.
Learn more about ICONICS' AnalytiX-BI online at https://iconics.com/AnalytiX-BI.
View the product award entry here at https://gspplatform.cfemedia.com/pe/productProfile/5b6dab003d75cb3d191f9eff.
About Control Engineering
Control Engineering (www.controleng.com) is the leader in connecting the global industrial engineering audience through the coverage of and education about automation, control and instrumentation technologies in a regionally focused, actionable manner through online and print media and in-person events. Control Engineering, Consulting-Specifying Engineer, and Plant Engineering are part of CFE Media LLC, located in Downers Grove, Ill. CFE stands for Content for Engineers (www.cfemedia.com).
About ICONICS
ICONICS is headquartered in Foxborough, Massachusetts and is a global software developer of visualization, HMI, SCADA and energy solutions. With over 350,000 installations in over 80 countries worldwide and running in over 70 percent of Global 500 companies, ICONICS software is recommended for automating, monitoring and optimizing a customer's most critical assets. ICONICS was named the 2018 Microsoft Manufacturing Partner of the Year and is now a six-time winner of the Microsoft Partner of the Year award.
Contact:
Melissa Topp
Senior Director of Global Marketing
ICONICS, Inc.
Telephone:  (508) 543-8600
Fax:  (508) 543-1503
Email:  [email protected]
Web:  www.iconics.com