Hydrogenics Awarded Funding to Build Two Hydrogen Fueling Stations for the Greater Toronto Area (GTA)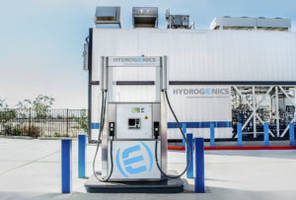 MISSISSAUGA, Ontario, April 06, 2017 - Hydrogenics Corporation (NASDAQ:HYGS) (TSX:HYG) ("Hydrogenics" or "the Company"), a leading developer and manufacturer of hydrogen generation, fueling station equipment and hydrogen-based power modules, today announced that it has been awarded funding by Canada's Federal Government's Ministry of Natural Resources (NRCan) to build two hydrogen fueling stations for fuel cell vehicles.
The Honourable Navdeep Bains, Minister of Innovation, Science and Economic Development, made the announcement during a news conference at Hydrogenics' headquarters in Mississauga, Ontario on Thursday, April 6th. The Minister announced an award of $1.6 million for the GTA Hydrogen Beachhead project -- including two hydrogen fueling stations -- to be built in the GTA area, establishing a new Canadian market for fuel-cell vehicles. The Minister also announced that Canada will boost the growth of clean technology in 2017 by making available more equity finance, working capital and project financing to promising firms in the sector. Nearly $1.4 billion in new financing will be set aside to help Canada's clean technology firms grow and expand.
"We have an opportunity to have a major impact on the development of clean energy and clean transportation in Canada," stated the Honourable Navdeep Bains, Minister of Innovation, Science and Economic Development. "Our 2017 budget proposes a number of approaches to reach that goal and improve energy efficiency, reduce carbon emissions, create a cleaner environment and healthier communities. Our government will also continue to help companies raise the standard in the field of clean technology in order to improve the quality of life for all Canadians."
"We are very pleased to receive this funding and support from the Canadian government for additional fueling stations in and around Toronto," said Daryl Wilson, President & CEO of Hydrogenics. "Having supplied hydrogen fueling equipment to more than 50 public and private fueling stations across the globe, it is particularly gratifying to deliver our expertise, with the support of NRCan, here at home. Driven by automotive OEMs introducing fuel cell electric vehicles (FCEVs), we're seeing an increase in demand for hydrogen-based models in Europe, California, the UK, and Japan – and now here in Canada. Using our renewable hydrogen fuel, the GTA will be one step closer to enabling carbon-free fueling for zero-emission vehicles."
"This is an important step toward supporting the introduction into Canada of zero-emission, hydrogen fuel-cell electric vehicles," added Dan Brock, spokesperson for the Canadian FCEV Coalition. "Today's announcement underscores Canadian expertise and leadership in the use of hydrogen as a clean and safe transportation fuel, opening a door to FCEVs becoming a key part of a zero-emission transportation future in Canada."
The Canadian FCEV Coalition includes BMW, Honda, Hyundai, Kia, Mercedes-Benz and Toyota, all hydrogen fuel-cell vehicle manufacturers working together to further develop the FCEV market for Canadians.
About Hydrogenics
Hydrogenics Corporation is a world leader in engineering and building the technologies required to enable the acceleration of a global power shift. Headquartered in Mississauga, Ontario, Hydrogenics provides hydrogen generation, energy storage and hydrogen power modules to its customers and partners around the world. Hydrogenics has manufacturing sites in Germany, Belgium and Canada and service centers in Russia, Europe, the US and Canada.
More from Electrical Equipment & Systems