Hydratight's geniSYS Provides Unique Solution for Nuclear Plant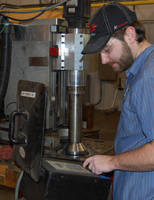 Global joint integrity specialist Hydratight has provided a unique solution to a significant obstacle in the restoration of a US nuclear plant. Hydratight's one-of-a-kind geniSYS three-dimensional drilling and thread milling machine was found to be the only tool that could complete the job to the accuracy and depth demanded.

A nuclear plant in Tennessee, where construction was suspended before completion almost 25 years ago, is being brought into service in line with the resurgence of US nuclear generating capacity.

But the operator found serious thread corrosion on three out of 54 stud holes on the cap head flange of one of the reactor vessels, which two decades before had not been fully protected against the effects of weather and time.

"This wasn't a case of getting out the taps and cutting new threads," said Hydratight's field service manager, Todd Walstad. "The stud holes are 14in deep and almost eight inches across. To remake the holes would have required not only a specialist tap costing tens of thousands of dollars, but also a vastly powerful and accurate motor to turn it. We didn't believe any conventional method existed - at least nothing portable enough to use," explained Todd.

The solution chosen by reactor maker, and approved by nuclear regulators, was Hydratight's unique geniSYS 220, portable, three-dimensional milling and threadcutting machine. In recent years this machine has solved otherwise insurmountable problems in many situations, from marine diesel engines to chemical and engineering plants.

Even this remarkable tool - portable enough to be operated by two technicians - wasn't suitable out of the box. Hydratight engineers had to make extensive modifications to the feed screw, guide rails, milling head and other elements of the computer-controlled device to extend its reach from the standard 12in to beyond the required 14in. After testing and approvals, the machine completed the job with extreme accuracy on time.

"The unique nature of the geniSYS is the reason we got the job - and we believe only this tool could have achieved this result," said Todd. "Other companies bid but we have no idea, even with our experience of this kind of work, how they planned to do the work."


More from Architectural & Civil Engineering Products