How to Reduce Damage to Bearings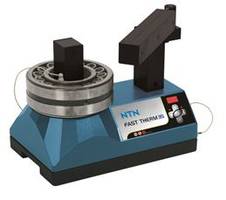 Did you know that 20% of premature bearing defects are due to improper installation and that using a hot mounting method reduces the risk of bearing damage significantly?
NTN knows and that's why we offer our SmartTemp family of induction heaters.
Our SmartTemp heaters are suited for industrial applications and produce optimum results compared to standard heaters, oil baths, hot plates and ovens.  Efficient and easy to use, they can heat bearings or any other mechanical parts of the same weight. These devices are designed for professional use and are suitable for both maintenance services and production lines.
NTN SmartTemp Heaters
Have 4 dedicated heating modes: Temperature (one sensor), Ramp, Temperature (two sensors) and Timer; adapted to each application;
High performance: 30% savings in heating time compared to standard devices and a significant reduction in energy consumption;
Easy to use: a touch screen informs the real-time time and can be used to save heating data.
Be sure to choose your SmartTEMP device according to the weight, dimensions and sensitivity of the parts to be heated. Click here for our product brochure with additional details.
If you are still unsure which is the best choice for you, or have additional questions, please reach out to your local NTN territory manager.