How Can You Prevent False Fire Alarms?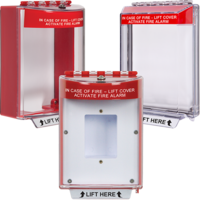 May 5, 2021 – Malicious false fire alarm calls are unacceptable and put fire personnel, security officers, and citizens at risk. A proactive approach is needed to help reduce false fire alarms-and sometimes completely eliminate them-and the answer is STI's Universal Stopper® Low Profile protective cover.
The indoor/outdoor low profile polycarbonate cover flashes and sounds a warning horn when activated. The cover offers excellent protection against false fire alarms, physical damage, dust and grime, as well as severe environments inside and out. When lifted to gain access to the actual alarm, a piercing warning horn sounds and the cover flashes to help draw immediate attention to the area. The prankster will either run or be caught before a false alarm is activated. The clear cover does not restrict legitimate operation of the fire alarm and helps attract attention in case of a real fire or emergency.
Officials are convinced false fire alarms are most likely the worst enemy facing the alarm industry. Preventing false fire alarms saves possible municipal fees, disruption, lost revenue, unnecessary gatherings that break COVID-19 social distancing standards, and a loss of productivity from employees, staff members and/or students.
STI UL/cUL Listed covers have been protecting alarms and preventing false fire alarms for over 40 years. Many mounting options, colors and labels are available.
To order or for more sales information on the STI Universal Stopper Low Profile (STI-14020FR) or the complete Universal Stopper series, call 248-673-9898, fax 248-673-1246, email [email protected] or visit www.sti-usa.com. STI's address is: 2306 Airport Road, Waterford, MI 48327-1209.