Hose Identification Solutions from AdvantaPure® Help Reduce Errors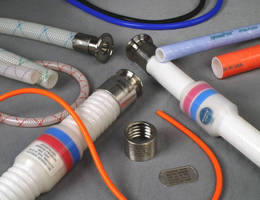 New Identification Methods Provide Customers With More Choices

Southampton, Pa. - AdvantaPure offers several solutions for taking the guesswork out of hose and manifold identification. They give users a choice of viable identification strategies for critical process hoses used in the pharmaceutical, biopharmaceutical, biomedical, chemical, food, and beverage industries.

Hose identification is crucial for safety, traceability, regulatory compliance, and to identify capabilities or limitations. AdvantaPure's options range from quick visual identifiers such as color, to laser-etched items, to RFID (radio frequency identification) tags. They're designed for tubing and reinforced hose manufactured of platinum-cured silicone and for rubber-covered or overbraided hoses of various materials. The identification methods can be used separately or in combination with each other for multi-tier identification.

Choices include:

o AdvantaLabel® - labels and color stripes permanently vulcanized directly to the O.D. (outside diameter) of silicone tubing and reinforced hose; the labels and stripes never contact the interior

o Color exteriors - colored silicone on the exterior layer of ply-wrapped silicone hose easily distinguishes it from other lines

o Color tracer braid - polyester braid material is available in several colors for use along an entire length of reinforced silicone hose

o Solid color tubing - color throughout silicone tubing provides fast identification

o Laylines - custom printing along a length of hose allows the user to identify information such as recommended uses, temperature limitations, part numbers, sizes, and more

o Laser-etched hose collars - permanent identification that is sharp, legible, and withstands various cleaning methods

o Laser-etched tags - easy to attach to hoses and more permanent than paper tags and unprotected adhesive labels

o DocuLink(TM) (patent pending) - AdvantaPure's newest identification method is designed for use with process manifolds of silicone and addresses document retrieval situations associated with audits and validations

o Hose Track® (U.S. Patents 7,195,149 and 7,328,837. Other U.S. and foreign patents pending) - RFID tags are attached to hoses to track their usage and cleaning; third party validated for 21 CFR Part 11

o GammaTag® - a type of RFID tag capable of withstanding gamma irradiation; styles exist for single use or repeated gamma radiation doses

For more information on AdvantaPure's hose identification products, contact the AdvantaPure team at 145 James Way, Southampton, PA 18966; phone 888-755-4370 or 215-526-2151; fax 888-258-4293 or 215-526-2167; e-mail: sales@advantapure.com; web page: http://www.advantapure.com/hose-identification.htm

About AdvantaPure and NewAge® Industries

The AdvantaPure division of NewAge Industries is ISO 9001:2008 certified and specializes in high purity tubing, hose, single use systems, manifolds, and other molded components for the pharmaceutical, biomedical, food, beverage, and chemical industries. All products are manufactured, stored, and shipped using the cleanest methods possible to ensure unsurpassed product purity. RFID systems, including gamma-irradiatable styles, are offered as well.

In business since 1954, NewAge Industries manufactures and fabricates thermoplastic and thermoset tubing in both reinforced and unreinforced styles. The company offers one of the broadest product lines of tubing and fittings in the U.S., provides extensive custom extrusion and fabrication capabilities, and services customers worldwide. NewAge Industries maintains a large inventory and prides itself on same-day shipment of 99% of orders for its core product lines. In 2006, NewAge initiated an ESOP (Employee Stock Ownership Plan) for the benefit of both its employees and customers.

Related