Hollaender® Manufacturing's Interna-Rail® VUE Chosen for Clear Sight Lines and Low Maintenance Requirements at WesBanco Arena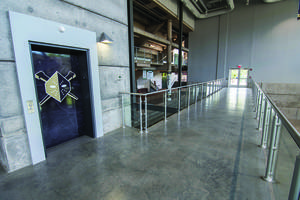 CINCINNATI - DECEMBER 20, 2017 - Hollaender Manufacturing, manufacturer of Interna-Rail aluminum railing systems, was chosen by M&G Architects & Engineers to provide railing systems for multiple areas within the WesBanco Arena. Located in Wheeling, West Virginia, WesBanco is a 5,600 seat, multi-purpose arena that hosts a variety of sporting and entertainment events. Built in 1977, the arena was renovated in 2016.
Renovation of the arena included a complete analysis and update of the fan experience. In seating areas, Hollaender's Interna-Rail VUE railing system was chosen for its excellent sight lines and aesthetic appeal during sporting and entertainment activities, as well its low maintenance costs. Maintenance requirements and costs for the Hollaender aluminum railing system, with its sleek black anodized finish, and fitted with white frosted glass infill panels, are far less than for traditional welded, painted steel.
In the lobby of the arena, Hollaender's Interna-Rail VUE railing was again utilized, but with a clear anodized frame and clear tempered glass infill panels. The components maximize visibility in this area. On the outside of the arena, Hollaender's ADA compliant Interna-Rail picket railing with a green powder coat line walkways and sidewalks, creating a colorful, safe and low maintenance entrance.
Hollaender's Interna-Rail VUE handrail system is an offset, post mounted fitting based railing system for glass, resin infill panels, and perforated metal, designed to combine the clean look of welded rail with all the benefits of a mechanical system. Interna-Rail® systems can be designed to meet any building code and are being used throughout the world in architectural, public works, and stadium applications.
About Hollaender Manufacturing
Hollaender is a manufacturer and marketer of both components and engineered railing systems.
In components, Hollaender is the market leader in aluminum structural pipe fittings as well as structures that incorporate these fittings with pipe.
In engineered railing systems, often called "Decorative Metal Railing Systems", the Cincinnati-based company is a leader in aluminum, stainless steel and structural glass railing systems.
Hollaender components are used in the design and build of handrail, guardrail and safety rail systems, retail store fixtures, as well as a wide variety of unique modular pipe and fitting based structures for commercial, residential, public works, and industrial applications. These components and systems are marketed under the trademarked brands Speed-Rail®, Interna-Rail®, Bumble-Bee® and Newman by Hollaender™. Hollaender also offers consultation, design, and project management services.